Frankyeffe feat Bruna - Skin [Riot]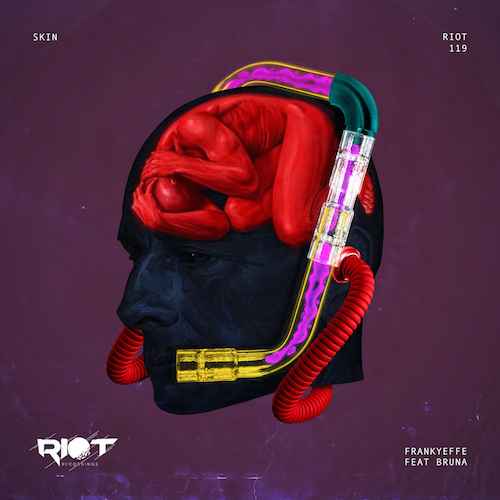 15 th June sees prolific Rome-based selector and label owner, Frankyeffe release his brand-new
single, 'Skin' ft. BRUNA via his own Riot Recordings imprint.
Continuing his hot streak of 2020 releases, Italian techno typhoon, Frankyeffe returns with yet
another essential addition to his ever-expanding catalogue. A little under two months after his
pounding Rave Alarm EP, he's back with his mammoth new single, 'Skin' featuring German
DJ/vocalist and previous Riot Recordings collaborator, BRUNA. Rapidly gaining the attention and
respect of the wider dance community, Frankyeffe has previously featured on the likes of Senso
Sounds, JAM, We Are The Brave, Filth On Acid, Tronic, Kraftek and Terminal M.
Offering up an ample feast of powerhouse production, 'Skin' arrives as striking showpiece for
Frankyeffe's domineering approach to dance music. Clocking in at 7 minutes 39 seconds, its
ascending atmospherics and pounding bassline is impenetrably dense, the track's percussive groove
also intricately punctuated by laser-synth interludes. BRUNA provides hypnotic vocals throughout;
her cryptic narration is all-encompassing and immersive beneath 'Skin's' cavernous exterior.
ARTIST

TRACK NAME

Frankyeffe feat Bruna


Skin

Skin
SUPPORT FROM: Richie Hawtin, joyhauser, Francesco, Ilario Alicante, Jonny Marciano, Fractious (Agile/Say What?/Transmit), Devid Dega, Markantonio, Cristian Varela, Itsalltechno, Mat, LOCO & JAM, Reker, Cheets / Rob, Global Dance Session, Paco Osuna, Riva Starr, joseph capriati, marco carola, albi, Russell Deeks, iDJ magazine, Gaga, Why I'm So Different Radio Show, Timmy, daniel beknackt, Anderson Noise...