RIOT113 - Oliver Lieb vs Frankyeffe - Oasis 2020 Remixes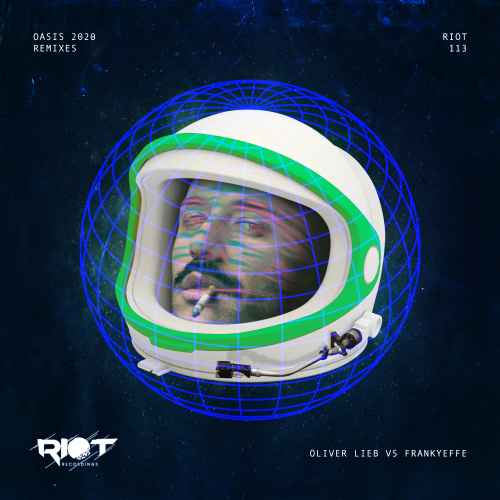 Rising Rome-based DJ and label owner Frankyeffe goes head to head with veteran German
DJ/producer Oliver Lieb to remix his 1995 trance classic, 'Oasis'. The track, which was originally
released under Lieb's previous alias Paragliders, has been reimagined on 'Oasis 2020' through two
separate remixes and will be released via the Italian DJ's own Riot Recordings imprint. 
2019 concluded another busy year for Frankyeffe's prolific Riot Recordings label putting out notable
releases from Optimuss, Heerhorst, SHDDR, Teenage Mutants and from the label owner himself to
name just a few. As his label's output continues to flourish, Frankyeffe – who's featured previously
on the likes of We Are The Brave, Filth On Acid, Tronic, Kraftek and Terminal M – looks to start
2020 how he means to go on with yet another stellar release that further cements his footing as a
prominent figurehead in the European techno scene.
Marking both Frankyeffe and Oliver Lieb's maiden collaboration project, 'Oasis 2020' sees both
artists rework the 25-year-old original track by employing each of their differing styles for equally
electrifying results. This essential two-track single release begins with Oliver Lieb instating thicker
textures and meatier production providing his original mix with some newfound reinforced drive. On
the second track, Frankyeffe responds by warping Lieb's original mix with a cavernous pulse fitting of
his often-demonic style of melodic techno. Retaining the nostalgia of the track's infectious hook, its
retrospective charm is supported beneath the weight of Frankyeffe's monstrous production.
ARTIST

TRACK NAME

Oliver Lieb vs Frankyeffe


Oasis 2020 (Oliver Lieb Remix)

Oasis 2020 (Oliver Lieb Remix)
Oliver Lieb vs Frankyeffe


Oasis 2020 (Frankyeffe Remix)

Oasis 2020 (Frankyeffe Remix)
SUPPORT FROM: Russell Deeks, iDJ magazine, SAMA', Sara Landry, Roberto Perez, Devid Dega, Misstress Barbara, Itsalltechno, Belocca, Cheets / Rob, Global Dance Session, Anderson Noise, Some Me, Timmy, daniel beknackt, Markantonio, Richie Hawtin, joseph capriati, Jonny Marciano, Bolster, Paco Osuna, Reker, rian wood, Sall, Riva Starr, marco carola, ZERLA, Thomas Schumacher, 123, veerus, Ilario Alicante, albi, Hollen, Oscar L, Fractious (Agile/Say What?/Transmit), Resonances (IT), SHDDR, Mario Ochoa, Vortex, LOCO & JAM, mimetic, luca morris...