Rachel Raw, Rafael Cerato, Justin James, Stefan Biniak, Vanita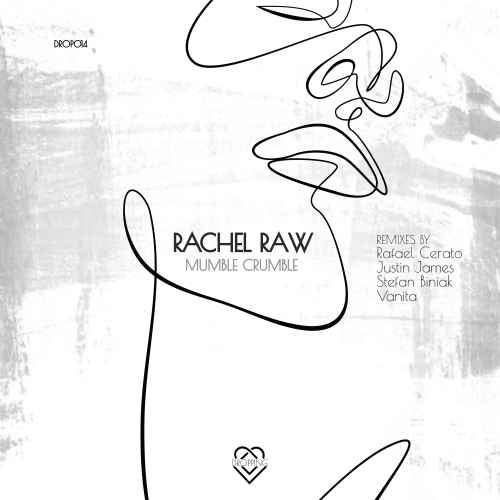 It's 2019 and for this very special first release label head Rachel Raw decided to take matters into her own hands. Until now, her only appearance on her baby label was back in February 2019. It was the second EP, "Der Zauber der Magie" by Nico Pusch, which was more than successful. Back then, Rachel contributed a remix.
But now it's time to get to know her original masterclass. "Mumble Crumble" is a bumpy deep tech track with a lot of soul and energy. It's hard to decide if it's utterly euphoric or dark. Somehow, it's a track for every mood.
That is the reason why many different producers wanted to remix this fantastic piece of art in many different ways. Let's start with Rafael Cerato, a man who doesn't need any introduction. In early 2019 he released on Jaw Dropping's sister label Jannowitz Records. Now he's back. His remix ist he melodic power house music that you would expect from someone who has been a regular on labels liek Suara, Get Physical or Stil vor Talent.
Next up is refused label boss Justin James. The Canadian takes us up to space with his hypnotic "Deep Space Take Remix". His version is faster and feels almost like meditation. It's a track to get lost into.
Contemporary melodic techno is served by Stefan Biniak – another one from our all-time favorite producers. Stefan's remix spirals you into another dimension with it's beautiful synthesizer sounds.
Swiss based producer Vanita also focused on the melodic parts of "Mumble Crumble" but highlighting more the already included theme in Rachel's original rather than playing with new melodies. She's the perfect girl power addition to this very first Rachel Raw EP on Jaw Dropping Records.
SUPPORT FROM: dj taj, blankvision, Nick Shak, Liubo Ursiny, StoKed, florian frings, Brian Gros, Ed-Liner, 88UW, vom Feisten, Zoe Xenia, Jay-x, miss melera, Martin Kremser, Rosper, pete sabo, Dubfire, Justin James, Remotion, cf, Francesco Bonora, distale, Robert Owens, Soul Button, Francesco mon, Inner Rebels, Terry Whyte, Hypnotised, Sinisa Tamamovic, Russell Deeks, iDJ magazine, Denny S (Zwischenmiete), Pablo Prado, Mudman, wankelmut, marco carola , Manchini, Jean-Jerome, Marina Karamarko, ANIMAL PICNIC, Naethan, Steve, Eric Small, Dela, Anderson Noise, Paco Osuna, Foolik, Frederic Stunkel, Dr.Best (Radio Z 95.8 Nuernberg), Linos, Riva Starr, Warmfm, Pedro Mercado, baikal, Cristian Varela, Martin Boettcher, Darin Epsilon, Tom Schön, Cliff de Zoete, gai barone, Oliver Huntemann, Deep House Belgium, Sunil, Richie Hawtin, Gianni Ruocco, Stas Drive, romylos, Ranj Kaler, gordon hollenga, tommy wahl, FREQS, Timmy, Dylan Deck, Markantonio, Casualties Of Sound, damian wilson, danilo d'andrea, HESKEL MORALES, Sergio Matina, Werner Niedermeier, Stiv Hey, DJ Style, Grasso & Maxim, Mix Feed Radio Show, Jannowitz Records, BOHO, giancarlo lanza, Maksim Dark & Diatonik...
We all have this one really good friend whose sister is kinda… hot?! You know, this one friend who we really like, we're super close to and we would never do anything to upset him? It's a struggle, definitely - but why not have both? Why not have the amazing friend who has always been there, who always will be there and who never lets you down - and also have his sister who, well, just makes your jaw drop. No further explanation needed why Jannowitz records new sister label is called Jaw Dropping records. Jaw Dropping is exactly this new sister who is hot, young, sexy, funky in a way. But to leave the metaphor, the quintessence here is: there is a new label on the market. Jaw Dropping Records originates from Cologne-based and well established Jannowitz Records, short JAW - hence the name. It is the sub-label everyone has been waiting for. Whilst Jannowitz records has been a core player of melodic techno and progressive house, Jaw Dropping Records focuses more on the feminine side of electronic music. We're talking funky baseline, a lot of vocals, electronica - but never losing the roots of true musical talent. Jaw Dropping Records head Rachel Raw is an ambassador of unique sound and music that is different from what you'll find in the charts. Of course, its roots with Jannowitz records provide perfect conditions. The distribution, the support - everything's already there. What's new is the angle towards electronic music. You'll find disco and groovy beats, downtempo and deep house in the future catalogue. Well selected by an independent female leader who is determined to shake up the industry with exceptional and extraordinary releases. And, of course, its distinguished style will be portrayed in every part of the label - from the cover design to the artist selection. Stay tuned!