Goose Tann - Space Walkers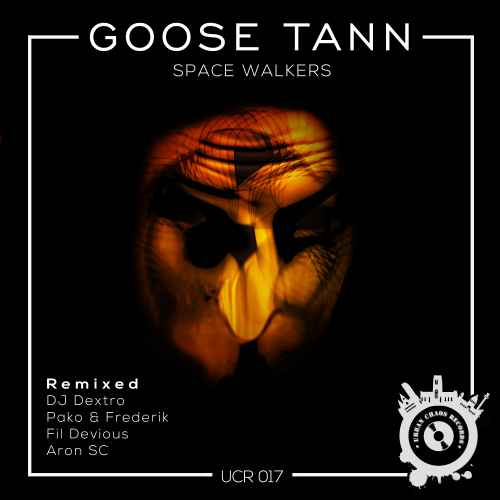 We want to give a warm welcome to Lebanon's man of the moment Goose Tann to UCR, Goose has been making waves for quite some time now, releasing tracks on, Alienator Records, Red Channel Records, Bubblejam Records, and many more.

Space Walkers is a dark, melodic techno track with a hard edge, minimal a times and then creeps up on you and hits with a big bang.

On this project we have enlisted on remix duties of the ever consistant Dj Dextro, you get exactly whats on the tin with Luis, he delivers a slamming hard techno version thats full of energy, peak time techno at its best.

Straight of the back of remixing Pako & Frederik's last outing on UCR Aron SC is back with his usual hard twisted banging techno, expect dark drums rumbling bass lines, deep dark and sexy techno.

Pako & Frederik Deliver A melodic monster on there remix for Goose Tann, Huge driving bass line and massive Synth stabbs are order of the day, this one takes you on a real musical journey.

Last but by no means least we have North Wales man of the moment Fil Devious, who delivers a funky, sexy, twisted techno version, heads will roll with this remix.


We hope you enjoy the music as much as we do.

If you are supporting any of the music please lets us know and tag UCR on any social media posts, we really appreciate it.

We would also appreciate it if your are supporting the label and enjoying the music follow our facebook and instagram pages.
SUPPORT FROM: BL.CK, Alan Lockton, D'JAMENCY, Randy Seidman, Eiryk Nosnam, Tony Romanello, Anderson Noise, Coers, Michael Cerda, SH13, Mark Neenan (Filth Infatuated / Fnoob / Zone), Toski, Lee Guthrie, Van Dexter, Russell Deeks, iDJ magazine, Cheets / Rob, Global Dance Session, Carl Shorts , Generic Excuse, DAVIDE, Scheibosan, Johan N. Lecander, Paco Osuna, Luis Martinez, Richie Q, Aron SC, Gabriel Wnz, Toxic D.N.A, Asulu Saint, Charlotte de Witte, Phil Soren, frisco, Lyn Stanford, Gaga, Noemi Black, Downloading for Stadium Artists - Thanks :-), aleksij dj, Israel Toledo, Richie Hawtin, Kiz Pattison (selador, platipus, renaissance), Sharee, Phil Cooper, Stefan Weise, Ron, tomy declerque, Markantonio, GREGOR SIZE, My Evil Twiin, baikal, Omis (Italy), Rave Syndicate , Sinisa Tamamovic, SKiRRA, Desaturate, Arend Vijfschaft | Malori Media, timmy byrne, MARTIN DASSLER (Major & Minor), Timmy, lorenzo al dino, Bobby Deep, Andi Durrant, Rodrigo Lobbao, luigi madonna, Lowerzone, David Granha, Modular Phaze, Jim E Scavenger, Sam Paganini, A.P., Mix Feed Radio Show, TiNi TuN , Matt Holt, Fil Devious, Alex Buchanan [Kingkade]...
Urban Chaos records is a independent techno label, it was founded 15/10/17 it has grown with stature in it's first year gaining some great support along the way from the worlds techno elite.