RIOT111 - Frankyeffe, A.S.H - Jealousy [Riot]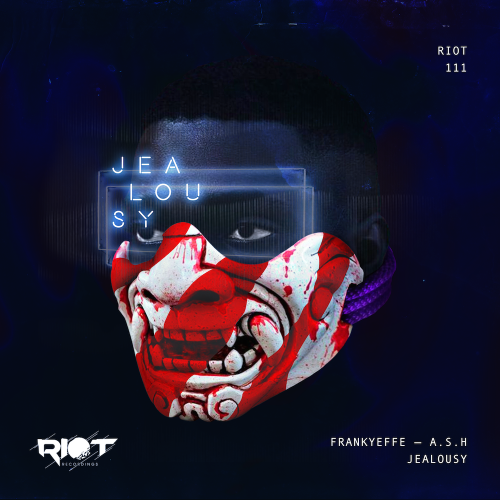 16 th December 2019 sees prolific Rome-based selector Frankyeffe team up with British
DJ/producer A.S.H to release their stunning debut collaborative single, 'Jealousy' which will be
released through the Italian DJ's own Riot Recordings imprint.
Having already racked up an impressive archive of notable releases – We Are The Brave, Filth On
Acid, Tronic, Kraftek and Terminal M to name just a few – Frankyeffe's rapidly expanding back
catalogue hallmarks an artist on the path to stardom. With nearly twenty years of experience tucked
firmly under his belt, his toughened style of melodic techno has long been refined into a sure-fire
formula for widespread acclaim and success.
For the first time, Frankyeffe links up with Portsmouth-based and fellow We Are The Brave
DJ/producer A.S.H on the their maiden collaboration, 'Jealousy'. This essential single release is
brutal right from the off, utilizing pounding percussion and thick textures, 'Jealousy' sounds out both
DJ's ability in sonic magnitude. The track's pulse is punishing throughout, building with swelling
synth aggression before finally revving up its overbearing distortion into an ear-splitting crescendo.
'Jealousy' will be exclusively available via Beatport on 16 th December and everywhere else two weeks later. Beatport pre-order will be available from 9 th December.
ARTIST

TRACK NAME

Frankyeffe, A.S.H


Jealousy

Jealousy
SUPPORT FROM: SHDDR, Fabio Florido, veerus, Roberto Perez, Heerhorst, tomy declerque, Cheets / Rob, Global Dance Session, Markantonio, Resonances (IT), daniel beknackt, Dubfire, Itsalltechno, Mario Ochoa, Sinisa Tamamovic, Sam Yu, Devid Dega, Mat, Timmy, Riva Starr, Jonny Marciano, rian wood, Spencer Dunning, Alan Fitzpatrick, luigi madonna, Paco Osuna, Rudosa, mimetic, 123, Gaga, Vortex, Belocca, Durtysoxxx, luca morris, Uakoz, Spartaque, Anderson Noise, Some Me, joseph capriati, Richie Hawtin, Sasha Carassi, Ramon tapia, Welticke...