Tomy Wahl, Nicolas Cuer, Tony Casanova, & Le Roi Carmona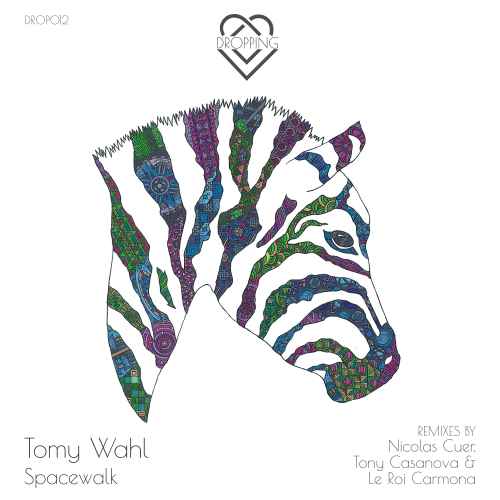 Tomy Wahl is not only a brilliant DJ and producer, he's actually a certified electroacustic composer. It's this very high quality that has made the Argentinian get recognition from prestigious labels such as Deeperfect, Set About, Time Has Changed or Night Light. And it's also the quality that has brought Tomy to Jaw Dropping Records.
He debuts with his phenomenal "Spacewalk" EP that serves the melodic and progressive sound that has been key to our label since the beginning. The title track lives off a synth and bass heavy main part and groovy percussions. Similar to this, the second original "Crossline" goes a little bit deeper – at least soundwise. It's also very strong in the lower frequencies but with a sharper melody and a mind-blowing break that convinced label head Rachel Raw immediately.
Tomy is a fantastic producer and it wasn't hard to find likeminded artists to work on his originals. Nicolas Cuer from France took "Spacewalk" and turned it into a big-room banger. It's his first time on Jaw Dropping Records as well! And then we have Tony Casanova, who released on Jaw Dropping's sister label Jannowitz Records in the past, provided "Spacewalk" synth line with his housy vibe, a much slower track now that has a very unique ambience.
The last remixer on this EP is Le Roi Carmona. He worked on "Crossline" and put the pumping bassline in the focus. A very spacey tune to close down this amazing "Spacewalk" EP.
SUPPORT FROM: Francesco mon, Manchini, Naethan, Steve, Eric Small, Gianni Ruocco, StoKed, Pablo Prado, toni rios, Bigasti, BULTECH, occer, Mark Jackus, Martin Kremser, Stiv Hey, Dhyan Droik, deepsouthaudio Simon , marco carola , Alex Young, Frederic Stunkel, Riva Starr, Anderson Noise, Predr, Paul Darey, pete sabo, Johan N. Lecander, Warmfm, Hypnotised, Stas Drive, 123, Anina Owly, Piemont, BOHO, Cheets / Rob, Global Dance Session, danilo d'andrea, Randy Seidman, Markantonio, Martin Boettcher, tommy wahl, Richie Hawtin, Dr.Best (Radio Z 95.8 Nuernberg), Timmy, highestpoint, Moe Danger, Sergio Matina, Bruno Otranto, Denny S (Zwischenmiete), Tom Schön, giancarlo lanza, Antonio Grassia...
We all have this one really good friend whose sister is kinda… hot?! You know, this one friend who we really like, we're super close to and we would never do anything to upset him? It's a struggle, definitely - but why not have both? Why not have the amazing friend who has always been there, who always will be there and who never lets you down - and also have his sister who, well, just makes your jaw drop. No further explanation needed why Jannowitz records new sister label is called Jaw Dropping records. Jaw Dropping is exactly this new sister who is hot, young, sexy, funky in a way. But to leave the metaphor, the quintessence here is: there is a new label on the market. Jaw Dropping Records originates from Cologne-based and well established Jannowitz Records, short JAW - hence the name. It is the sub-label everyone has been waiting for. Whilst Jannowitz records has been a core player of melodic techno and progressive house, Jaw Dropping Records focuses more on the feminine side of electronic music. We're talking funky baseline, a lot of vocals, electronica - but never losing the roots of true musical talent. Jaw Dropping Records head Rachel Raw is an ambassador of unique sound and music that is different from what you'll find in the charts. Of course, its roots with Jannowitz records provide perfect conditions. The distribution, the support - everything's already there. What's new is the angle towards electronic music. You'll find disco and groovy beats, downtempo and deep house in the future catalogue. Well selected by an independent female leader who is determined to shake up the industry with exceptional and extraordinary releases. And, of course, its distinguished style will be portrayed in every part of the label - from the cover design to the artist selection. Stay tuned!