Pako & Frederik - Spread It Together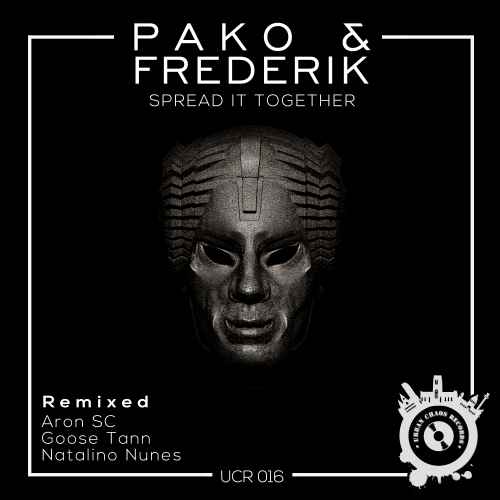 We want to give a warm welcome to Pako & Frederik to UCR, This Dutch duo have been around for over 2 decades and have been supported by the worlds elite over the years.

Spread it together is a dark, melodic techno track, absolute first class quality from the Dutch duo, this is sure to keep your dance floors grooving.

On this project we have enlisted on remix duties, The ever consistant Natalino Nunes ( Head Honcho from Jay's Records), he delivers a slamming hard techno version, Definitely for the darker rooms of techno.

Also on remix duties is Aron SC, Aron is certainly making waves right now in the hard techno scene, Aron's version doesn't disappoint at all, expect dark drums rumbling bass lines, deep dark and sexy techno.

Last but by no means least we have Lebanon's finest export Goose Tann, who delivers a more stripped back twisted techno version, heads will roll with this remix


We hope you enjoy the music as much as we do.

If you are supporting any of the music please lets us know and tag UCR on any social media posts, we really appreciate it.

We would also appreciate it if your are supporting the label and enjoying the music follow our facebook and instagram pages.
SUPPORT FROM: Ryan Thomson, Richie Q, DJ Steven, Lyn Stanford, Gabriel Wnz, Phraktal , Russell Deeks, iDJ magazine, Rodrigo Lobbao, deepsouthaudio Simon , MAKOTRAX, My Evil Twiin, Anderson Noise, Carlito Briganti, Homma Honganji, PoSher, Markantonio, Toski, Chris Salt, SH13, Sonic Union, Jon Connor, Robert Van Ryn, Coers, Matt Holt, Ranj Kaler, ARRAM, Tom Page, Charlotte de Witte, timmy byrne, nii tei, Mariano Mellino, Eiryk Nosnam, BL.CK, MARTIN DASSLER (Major & Minor), Blake Jarrell, Deny, Cheets / Rob, Global Dance Session, Andi Durrant, D'JAMENCY, Anthony Pappa, Downloading for Stadium Artists - Thanks :-), Alex Buchanan [Kingkade], Steve'Butch'Jones, Phil Soren, Johan N. Lecander, Richie Hawtin, HAU, Timmy, Ron, A.P., GREGOR SIZE, Cor Fijneman, Carl Shorts , jazzy m, Lowerzone, TiNi TuN , Generic Excuse, Arend Vijfschaft | Malori Media, baikal, Xaric , Vazik, stefan lange, digital resources, Israel Toledo, Thad Lester, Scheibosan, Fil Devious, Nick Le Bon, Nic Cavendish, Mark Greene, Goose Tann, Blue Amazon, Samer, Mix Feed Radio Show, DaGeneral, Nick Muir, Josh Love, Toxic D.N.A, Michael Cerda, Oakie, Gaga, Mechanikal, Aron SC, Liubo Ursiny, John Digweed, Kiz Pattison (selador, platipus, renaissance), Gerard Russchenberg (club madnezz)...
Urban Chaos records is a independent techno label, it was founded 15/10/17 it has grown with stature in it's first year gaining some great support along the way from the worlds techno elite.