Fil Devious - Raw Groove E.P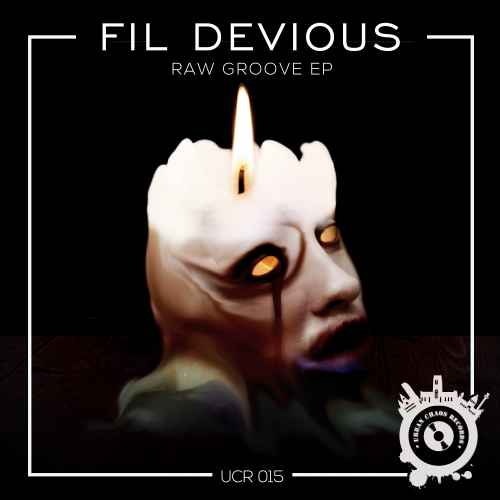 We welcome Fil Devious to UCR, expect 3 high energy techno bangers.

Fil Devious is a Techno DJ & Producer from North Wales. You can catch him playing sets at free parties, festivals & clubs all over Europe & across the UK.
Dedication & hard work in the studio has paid off earning him releases on labels such as Ancedote Recordings, Audioeargasm, Alliance Digital, AK Recordings, Chase Yer Tail, Hypnotek 909 (Hypnohouse Trax),Total Loss Recordings, Viral Outbreak & War On Techno Recordings. Fil's productions have also found their way onto vinyl labels like 303 Alliance, Furious Wax, Raveyard Records, Surge Records & Stay Up Forever Overdose.
Striving to push boundaries Fil's sound is changing as he concentrates more on the Techno side of things. With releases lined up on various labels this guy is going be one to watch!

We hope you enjoy the music as much as we do. 3 slabs of pounding techno to pick from. we have found it very difficult to select just one stand out track.

If you are supporting any of the music please lets us know and tag UCR on any social media posts, we really appreciate it.

We would also appreciate it if your are supporting the label and enjoying the music follow our facebook and instagram pages.
SUPPORT FROM: Gabriel Wnz, Homma Honganji, Mark Neenan (Filth Infatuated / Fnoob / Zone), luigi madonna, Fil Devious, marco carola, Coers, Van Dexter, Louk / Hidden Identity, Matt Holt, Lyn Stanford, GREGOR SIZE, Kiz Pattison (selador, platipus, renaissance), Laugh Like Me, Jarvis, Russell Deeks, iDJ magazine, EZ, Markantonio, timmy byrne, Michael Cerda, Richie Q, My Evil Twiin, Samer, M.I.D.I., habischman, Zuni, A Darker Wave, DEMI, Toski, Chris Salt, Paco Osuna, Bobby Deep, Generic Excuse, DJ Steven, Anderson Noise, BL.CK, Rave Syndicate , Downloading for Stadium Artists - Thanks :-), ARRAM, Mark Greene, HAU, Rodrigo Lobbao, Cheets / Rob, Global Dance Session, Andi Durrant, Jon Connor, Aron SC, Johan N. Lecander, Richie Hawtin, Carl Shorts , 123, Mix Feed Radio Show, Skov Bowden, Timmy, KyzerSan, DJWILD, A.P., baikal, SH13, Stefan Weise, SKiRRA, Ron, Gaga, Alex Buchanan [Kingkade], severino ,
Urban Chaos records is a independent techno label, it was founded 15/10/17 it has grown with stature in it's first year gaining some great support along the way from the worlds techno elite.