Lampé, Markus Klee, Heinrich & Heine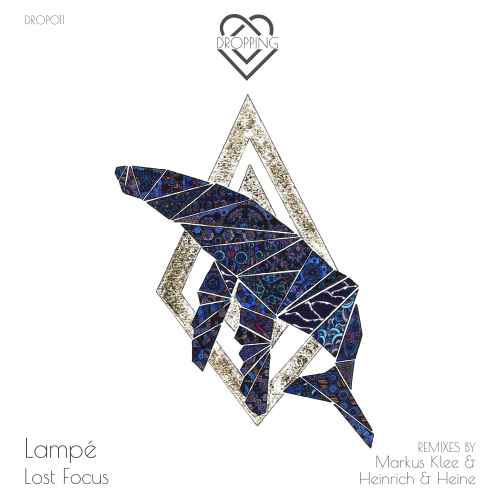 Jaw Dropping Records label head Rachel Raw had already laid an eye on Lampé quite some time ago. It was his unique sound, his musical taste and technical expertise that convinced her immediately. It was set in stone that Lampé had to release on her label - and now the time has come.
"Lost Focus EP" consists of four tracks. Two originals showcase Lampé's skills perfectly. The title track "Lost Focus" is a heavy-hitter with a pretty straightforward beat. It's dark and driving techno that's the perfect addition to minimal techno sets. "Adult" on the other hand is a lot groovier. The beat is slower, taking more time to build up and climaxes in a melodic break. Both tracks are carried by spacey pads and lots of different percussive elements - that's what makes a Lampé track special!
But we promised four tracks, right? Two remixes are also part of this EP. One brought to you someone you will probably remember from past releases, the other one is a true Jaw Dropping debut.
Heinrich & Heine released on Jannowitz Records some months ago, contributing an amazing track to a compilation. They reinterpreted "Adult" and turned this full-on melodic techno groover into a full-on melodic techno machine. They turned up the bpm in order to keep the overall techno feeling. But their super melodic remix is a proper extra on this already powerful EP.
For the softer souls, we invited Markus Klee to the label. He's a Berlin local with releases on labels from clubs like Ritter Butzke and infamous Bar 25. His remix is the exact opposite of Heinrich & Heine's. Markus turned "Lost Focus" - the heavy-hitting stomper - into a groovy tech house track. Making "Lost Focus EP" another Jaw Dropping release with tracks for every taste. Pick your favourite and play it on the dance floor!
SUPPORT FROM: Francesco mon, Stiv Hey, occer, Demian Moreno, eVe, Russell Deeks, iDJ magazine, d!e zwe!, Nick Shak, Mudman, Anderson Noise, StoKed, Sinisa Tamamovic, Pablo Prado, Laurent Garnier, vom Feisten, Moe Danger, Reza Golroo, Darin Epsilon, Randy Seidman, Josephine de Retour, Markantonio, marco carola , Paco Osuna, Frederic Stunkel, Jeremias, Richie Hawtin, Riva Starr, romylos, Warmfm, Marina Karamarko, Jay-x, AlBird, Mapusa Mapusa / Johnson, SUDO, Hypnotised, Johan N. Lecander, Dylan Deck, Damian Duda, Maksim Dark & Diatonik, ANKE, danilo d'andrea, Anthony Pappa, deepsouthaudio Simon , Denny S (Zwischenmiete), Dr.Best (Radio Z 95.8 Nuernberg), Maria Goetz, Gaga, Martin Kremser, Steve, Kaa, Mark Jackus, Jackie Mayden, Timmy, HESKEL MORALES, Celic (Terminal M, Form, Transmit, Night Light), Olivier Weiter, differentgrooves.com, 123, Dee Princi, roog/hardsoul, Antonio Grassia, Mix Feed Radio Show, baikal, Michael, Tom Schön, Brian Gros, Ranj Kaler, Heinrich & Heine, Martin Boettcher...
We all have this one really good friend whose sister is kinda… hot?! You know, this one friend who we really like, we're super close to and we would never do anything to upset him? It's a struggle, definitely - but why not have both? Why not have the amazing friend who has always been there, who always will be there and who never lets you down - and also have his sister who, well, just makes your jaw drop. No further explanation needed why Jannowitz records new sister label is called Jaw Dropping records. Jaw Dropping is exactly this new sister who is hot, young, sexy, funky in a way. But to leave the metaphor, the quintessence here is: there is a new label on the market. Jaw Dropping Records originates from Cologne-based and well established Jannowitz Records, short JAW - hence the name. It is the sub-label everyone has been waiting for. Whilst Jannowitz records has been a core player of melodic techno and progressive house, Jaw Dropping Records focuses more on the feminine side of electronic music. We're talking funky baseline, a lot of vocals, electronica - but never losing the roots of true musical talent. Jaw Dropping Records head Rachel Raw is an ambassador of unique sound and music that is different from what you'll find in the charts. Of course, its roots with Jannowitz records provide perfect conditions. The distribution, the support - everything's already there. What's new is the angle towards electronic music. You'll find disco and groovy beats, downtempo and deep house in the future catalogue. Well selected by an independent female leader who is determined to shake up the industry with exceptional and extraordinary releases. And, of course, its distinguished style will be portrayed in every part of the label - from the cover design to the artist selection. Stay tuned!