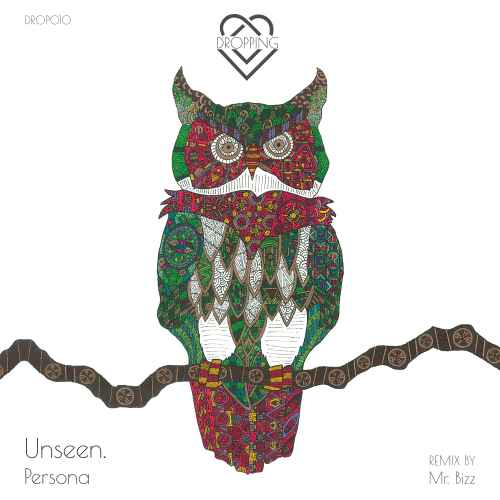 As a young label, Jaw Dropping Records is ever evolving. The most recent development being label boss Rachel Raw exploring her tendencies towards the harder and darker styles of electronic dance music. That's why this month's release is first taste of a newly polished Jaw Dropping sound. A perfect combination of melodic elements and heavy beats.
And for that we found the perfect producers: Unseen. is a project formed last year by Adrian Barrin and Ryan Provost in Manhattan. Individually they had both already been successful. But their new collaboration is more than promising.
The first name-giving track off their "Missing Picture EP" is dark and synth-heavy. A neo-trance production that puts Unseen. in the same league as Afterlife artists like Mind Against or Kevin de Vries. It's their moody melodies that seem to come with a perfect timing. Just when trancey sounds are on the rise worldwide.
But there is something about this particular EP that makes it even more diverse than most other releases on the market with a similar profile. There is the slow and groovy minimalism that comes with "Persona" or the straight-forward intensity combined with a playfulness in the melody – almost video game like – that makes "Missing Picture EP" very special.
But it doesn't stop here. As always, we tried to find a good match for Unseen. in order to provide the EP with an interesting remix. Mr. Bizz is a duo from Italy with releases on Cocoon, Sci+Tec, Octopus, Terminal M, Toolroom (yeah, exactly: you name the label – they have been there) – and a killer EP that was released a few months ago on Jaw Dropping's mother label Jannowitz Records.
Their rework of "Persona" picks up the minimalistic melody of the Original track and weaves it into a net of tribal techno percussions, with a progressive kick-drum, striking hi-hats and subtle claves. A full-on mainroom filler ready for the dancefloors all around the globe.
SUPPORT FROM: d!e zwe!, Stiv Hey, Laurent Garnier, SMALL, Marina Karamarko, Anthony Pappa, Bigasti, Martin Kremser, Kaa, Julian Brand, Brian Gros, Timmy, FREQS, Milos Pesovic, Psytox, Eric Small, Antonio Grassia, Frederic Stunkel, Ranj Kaler, Russell Deeks, iDJ magazine, Nick Shak, Steve, Markantonio, Damian Duda, michael, StoKed, Dhyan Droik, Warmfm, Mudman, Jeremias, Pablo Prado, Patrick Ebert, 123, Rabo, thorsten karger, ANKE, Anderson Noise, Dylan Deck, George Vidal, Deepology, Riva Starr, Fabio Ferro , danilo d'andrea, Martin Boettcher, Maksim Dark & Diatonik, Johan N. Lecander, Pedro Mercado, romylos, Hypnotised, Dr.Best (Radio Z 95.8 Nuernberg), Cheets / Rob, Global Dance Session, Jay-x, Mix Feed Radio Show, Mark Jackus, AlBird, Denny S (Zwischenmiete), Celic (Terminal M, Form, Transmit, Night Light), Denis A, Richie Hawtin, Casualties Of Sound, Gaga, deepsouthaudio Simon , Eric powell , Stefano Lotti, Kenny Brian, Tom Schön, Michael, Jannowitz Records, Sergio Matina, BOHO...
We all have this one really good friend whose sister is kinda… hot?! You know, this one friend who we really like, we're super close to and we would never do anything to upset him? It's a struggle, definitely - but why not have both? Why not have the amazing friend who has always been there, who always will be there and who never lets you down - and also have his sister who, well, just makes your jaw drop. No further explanation needed why Jannowitz records new sister label is called Jaw Dropping records. Jaw Dropping is exactly this new sister who is hot, young, sexy, funky in a way. But to leave the metaphor, the quintessence here is: there is a new label on the market. Jaw Dropping Records originates from Cologne-based and well established Jannowitz Records, short JAW - hence the name. It is the sub-label everyone has been waiting for. Whilst Jannowitz records has been a core player of melodic techno and progressive house, Jaw Dropping Records focuses more on the feminine side of electronic music. We're talking funky baseline, a lot of vocals, electronica - but never losing the roots of true musical talent. Jaw Dropping Records head Rachel Raw is an ambassador of unique sound and music that is different from what you'll find in the charts. Of course, its roots with Jannowitz records provide perfect conditions. The distribution, the support - everything's already there. What's new is the angle towards electronic music. You'll find disco and groovy beats, downtempo and deep house in the future catalogue. Well selected by an independent female leader who is determined to shake up the industry with exceptional and extraordinary releases. And, of course, its distinguished style will be portrayed in every part of the label - from the cover design to the artist selection. Stay tuned!