Christian Bonori, Beatamines, Daniel Jaeger - Indus Ep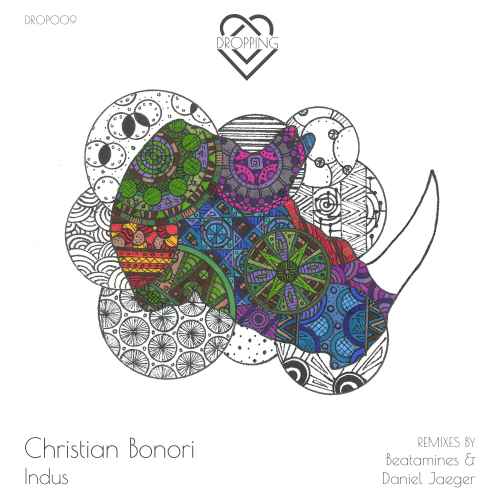 Say hello to one of our all time favourite producers: Christian Bonori was born and raised in Italy but soon conquered Europe and the rest of the world. He started out in 2000 when electronic music had already reached a proper amount of recognition all around the globe. He is a true legend and we're super happy to welcome him on the label.
Christian is known for killer productions and an eye for the detail. That's why he was already discovered by some of the biggest labels: Suara, Yoshitoshi, Time Has Changed and the list continues. But not only that. It seems like every artist wants to remix Christian's tracks. His work has been reinterpreted by Felix Kröcher, Pig&Dan, Hans Bouffmyhre and many more!
His debut EP is called "Indus" - like the famous river in Pakistan. It's a melodic bomb that's full of hypnotic grooves and percussions. Its key melody spirals through the track for six and a half minutes and is carried by a constant four to the floor beat catapulting you into a different universe.
And as we've already told you: Everyone wishes to remix Christian. So we had to decide on another great producer for that. In the end, our friend Beatamines took his precious time and transformed "Indus" in a more melancholic kind of track. His remix is super groovy as well but shoved the main theme more into the background, focusing on minor chords and a minimalistic break with synth elements for the little extra.
But let's get to the second track of Christian's Jaw Dropping EP. "Dabih" is the name of one of the stars in Capricornus. Its that spherical energy that definitely reflects in the track. The driving house beat is supported by choir like chants that could be soundscapes coming from space.
But - of course - we can't stop here. After inviting a superstar like Beatamines for a remix, we asked our beloved Daniel Jaeger who Berliners will know from the Criminal Bassline parties and label or Wilde Renate's Bordel Des Arts - one of the coolest parties in town. He completes this perfect house release with a more percussion oriented version of "Dabih" that is a little more stripped back, less drama and buildup but without lacking Christian's core aesthetic.
SUPPORT FROM: Nick Shak, Mark Jackus, Anika, StoKed, Mudman, Piemont, Danny Tenaglia, AlBird, malandra, Jannowitz Records, Mariano Mellino, SMALL, madmotormiquel, differentgrooves.com, Maris, Hypnotised, Dylan Deck, xxx, Oliver Huntemann, Hristian Stojanowski, Pepe Arcade , Calvin Bosco, ANIMAL PICNIC, Unique (CRO), deepsouthaudio Simon , Werner Niedermeier, Timmy, Randy Seidman, Milos Pesovic, Denis A, Antonio vendone , Dilee D, Kenny Brian, michael, Ranj Kaler, Damian Duda, d-phrag, Prompter, luigi madonna, Pablo Prado, MirrorRecords, Russell Deeks, iDJ magazine, Marina Karamarko, HIGHJACKS, Naq , Variond, Frederic Stunkel, Chris Robin, Sinisa Tamamovic, marco carola , George Vidal, nihil young, Antonio Grassia, Radio Globo, ANKE, Darin Epsilon, Dhyan Droik, Richie Hawtin, Raphael Hofman, A.D.H.S., Bigasti, Dr.Best (Radio Z 95.8 Nuernberg), Markantonio, Bruno Dietel, Tom Schön, Denny S (Zwischenmiete), Warmfm, Riva Starr, Pedro Mercado, romylos, HESKEL MORALES, Thorsten Hammer, Dole & Kom, timur celikyay, NYC HOUSE RADIO , Martin Kremser, Stiv Hey, hypnorex, Johan N. Lecander, Jay-x, Josephine de Retour, Markus Kavka, Martin Boettcher, Foolik, Celic (Terminal M, Form, Transmit, Night Light), John Haden, Rabo, vom Feisten, Francesco mon, Leigh Weatherell, Clint Maximus, Anthony Pappa, Julian Brand, Anderson Noise, Michael, danilo d'andrea, Maksim Dark & Diatonik, Manchini, The Journey, Mix Feed Radio Show, Kaiser Souzai, Sergio Matina, Shuja...
We all have this one really good friend whose sister is kinda… hot?! You know, this one friend who we really like, we're super close to and we would never do anything to upset him? It's a struggle, definitely - but why not have both? Why not have the amazing friend who has always been there, who always will be there and who never lets you down - and also have his sister who, well, just makes your jaw drop. No further explanation needed why Jannowitz records new sister label is called Jaw Dropping records. Jaw Dropping is exactly this new sister who is hot, young, sexy, funky in a way. But to leave the metaphor, the quintessence here is: there is a new label on the market. Jaw Dropping Records originates from Cologne-based and well established Jannowitz Records, short JAW - hence the name. It is the sub-label everyone has been waiting for. Whilst Jannowitz records has been a core player of melodic techno and progressive house, Jaw Dropping Records focuses more on the feminine side of electronic music. We're talking funky baseline, a lot of vocals, electronica - but never losing the roots of true musical talent. Jaw Dropping Records head Rachel Raw is an ambassador of unique sound and music that is different from what you'll find in the charts. Of course, its roots with Jannowitz records provide perfect conditions. The distribution, the support - everything's already there. What's new is the angle towards electronic music. You'll find disco and groovy beats, downtempo and deep house in the future catalogue. Well selected by an independent female leader who is determined to shake up the industry with exceptional and extraordinary releases. And, of course, its distinguished style will be portrayed in every part of the label - from the cover design to the artist selection. Stay tuned!