Marc Molina & Calypse - Free Souls Ep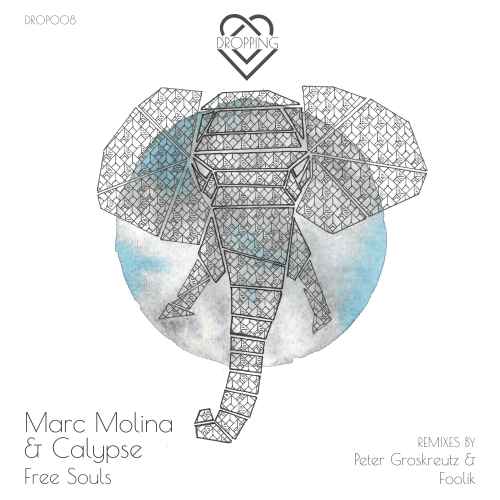 Ready for the summer vibes? We definitely are! At the very latest after having danced to the freshest Jaw Dropping Records EP - brought to you by no one less than Marc Molina and Calypse. Just in time for the hottest season!
Marc was born and raised in Barcelona and is known for super groovy productions on labels like Frequenza. Maura and Shana both make the female only DJ duo Calypse. They are based in Rome and are the perfect fit for this Southern European co-production EP. "Free Souls" is the name of the main track of the release. The influence by both their warm Southern regions are undeniable. They created a house track carried by a round kick and driving hi-hats with a catchy and deep synth melody and club-ready drops.
For the second track of the Ep ("Spiritual Warfare") Marc Molina decided on a harder vibe and went more in the melodic techno direction that suits Jaw Dropping Records just as good as the softer productions that we've been showcasing this year.
But what would be a Jaw Dropping release without some amazing remixers? Berlin's Foolik took "Free Souls" and made his very own deep-house version - with a punchy kick and less drama. As resident at Berlin's infamous Sisyphos club he knows how to make people dance (not to mention his outstanding releases on Jaw Dropping's sister label Jannowitz Records or Katermukke). His remix is energetic and light at the same time. Perfect for festival season!
Talking about festival season: Here comes Peter Groskreutz. The second remixer on "Free Souls Ep". His remix of the title track is faster and darker but on the same side hold on to the the catchiness of the original. The perfect edition for a diverse release that provides music to music lovers of all kinds!
SUPPORT FROM: Swann Decamme, MirrorRecords, Naq , Variond, nihil young, Russell Deeks, iDJ magazine, ANIMAL PICNIC, JOREK, ANKE, Dhyan Droik, Mudman, ELIO RISO , rauschhaus, Paul Hazendonk, danilo d'andrea, Juliane Wolf, Hot Since 82, Martin Kremser, Stiv Hey, Laurent N., Anderson Noise, Nick Shak, SMALL, Pablo Prado, michael, Sinisa Tamamovic, Jay-x, Camiel Daamen, BOHO, Marina Karamarko, Miriam, 123, Boryana, Moe Danger, Steve, gee, Denny S (Zwischenmiete), Dr.Best (Radio Z 95.8 Nuernberg), Tom Schön, Riva Starr, differentgrooves.com, Frederic Stunkel, Ed-Liner, Andi Durrant, Markantonio, Pedro Mercado, Francesco mon, Deep House Belgium, Laurent Garnier, Prompter, Anthony Pappa, Damian Duda, adamkdj, Manchini, Mix Feed Radio Show, Robert Owens, Dylan Deck, HESKEL MORALES, Michael, Antonio Grassia, d-phrag, Leigh Weatherell, Warmfm, Ranj Kaler, Sergio Matina, Ilario Alicante, Deepology, Radio Globo, roog/hardsoul, Ewan Rill, Johan N. Lecander, Richie Hawtin, Colin Dale, Terry Whyte, Timmy, Celic (Terminal M, Form, Transmit, Night Light), Eric powell , Gaga, Leevey, Martin Boettcher...
We all have this one really good friend whose sister is kinda… hot?! You know, this one friend who we really like, we're super close to and we would never do anything to upset him? It's a struggle, definitely - but why not have both? Why not have the amazing friend who has always been there, who always will be there and who never lets you down - and also have his sister who, well, just makes your jaw drop. No further explanation needed why Jannowitz records new sister label is called Jaw Dropping records. Jaw Dropping is exactly this new sister who is hot, young, sexy, funky in a way. But to leave the metaphor, the quintessence here is: there is a new label on the market. Jaw Dropping Records originates from Cologne-based and well established Jannowitz Records, short JAW - hence the name. It is the sub-label everyone has been waiting for. Whilst Jannowitz records has been a core player of melodic techno and progressive house, Jaw Dropping Records focuses more on the feminine side of electronic music. We're talking funky baseline, a lot of vocals, electronica - but never losing the roots of true musical talent. Jaw Dropping Records head Rachel Raw is an ambassador of unique sound and music that is different from what you'll find in the charts. Of course, its roots with Jannowitz records provide perfect conditions. The distribution, the support - everything's already there. What's new is the angle towards electronic music. You'll find disco and groovy beats, downtempo and deep house in the future catalogue. Well selected by an independent female leader who is determined to shake up the industry with exceptional and extraordinary releases. And, of course, its distinguished style will be portrayed in every part of the label - from the cover design to the artist selection. Stay tuned!