JAW DROPPING RECORDS ANOTHER DANCE COMPILATION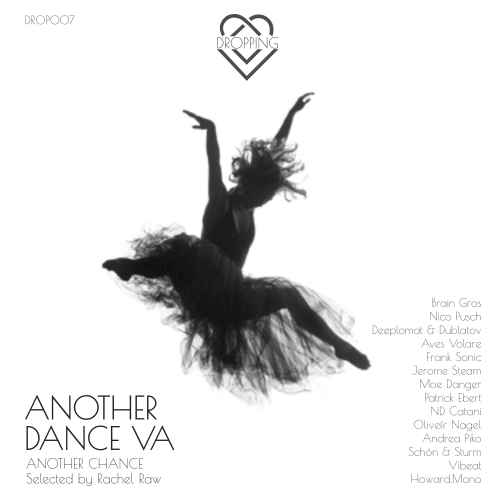 Another chance, another dance – this is the motto that has accompanied Jaw Dropping Records since its overwhelming start just a few months ago. In the meantime, the label has been overwhelmingly successful with constant Beatport chartings and international attention. Never ever would we have expected some of the biggest and most inspiring electronic music artists coming to us and asking for a release on our brand new baby. But they've come in herds and we're grateful for that.
Although we've only had a few releases in the JAW catalogue, we're confident enough to already showcase the original Jaw Dropping sound with two amazing compilations. "Another Chance" and "Another Dance" compile 30 tracks by artists we love and admire. So get ready for 30 chances to 30 dances.
Nico Pusch is the perfect example of Jaw Dropping Records and the way we've come. He is one of our all-time favorites and it's almost unbelievable that we were able to put his name on our second release ever back in February! "Der Zauber der Magie" was a complete win and we all agreed that Nico should be back soon on Jaw Dropping Records. Now he is – kicking of "Another Dance" compilation with a stripped back Deep House track called "Shake That" that's not only melodic and sexy but also super groovy and danceable. Four parameters that represent the Jaw Dropping sound perfectly and that you will find in all of the 15 tracks on this EP.
Our good friend Howard.Mono got the chance to remix "Shake That" as the only remix on both compilations and made his own, more straight-forward version of it – leaving the name giving vocal out. But see for yourselves!
Another artist we would like to highlight is Jaw Dropping main artist Oliver Nagel. On "Another Chance" you will find his debut track "I Need". On this compilation he's back with his track "Memory", a masterpiece of melodic and emotional music that we appreciate a lot.
But next to brand new artists like Oliver we have some names that you will recognize if you have been following the JAW family for some time. Patrick Ebert ("Iny My Head") for example released of Jannowitz Records, Jaw Dropping's bigger sister label, in 2015! Andrea Piko ("Vale") back in 2016.
But with Moe Danger ("Hold Me"), Deeplomat & Dublatov ("Ghost Riders"), Frank Sonic ("Another Love"), Nd Catani ("Call Of The Ancients"), Schoen&Sturm ("Don't Take It Away"), Aves Volare ("Reborn"), Brian Gros, Jerome Steam ("Prometeus") and Vibeat ("39"), there are several new artsits that we want to introduce you to and that we're convinced are worthy of your attention.
SUPPORT FROM: Josephine de Retour, Jay-x, Demian Moreno, Marina Karamarko, Denny S (Zwischenmiete), Joachim Garraud, Bigasti, Damian Duda, marco carola , Warmfm, Eric powell , Riva Starr, differentgrooves.com, Pedro Mercado, Raul Facio, Nick Shak, Anderson Noise, ANIMAL PRINT (KOMPAKT, SYSTEMATIC), Francesco mon, Ednner Soares, Darien J, Johan N. Lecander, michael, Chris Robin, Martin Boettcher, schNee, Manchini, Daniele Travali, Celic (Terminal M, Form, Transmit, Night Light), Joy Kitikonti, Valer den Bit, Richie Hawtin, Steve, Timmy, Anthony Pappa, danilo d'andrea, AlBird, Brian Gros, Dustin Holtsberry, Sebastian Fleischer, Martin Kremser, Pablo Prado, BULTECH, go!diva, Joseph Disco, vom Feisten, Randy Seidman, Cristian Varela, Eric Small, Norbert Meszes, Markantonio, Eric Passin, HIGHJACKS, Dr.Best (Radio Z 95.8 Nuernberg), xxx, Stiv Hey, Soble , Frederic Stunkel, Johan Dresser, Cheets / Rob, Global Dance Session, Mix Feed Radio Show, Mudman, tomy declerque, Sinisa Tamamovic, Tom Schön, Werner Niedermeier, Ranj Kaler, Sergio Matina, cf, DJ Style...
We all have this one really good friend whose sister is kinda… hot?! You know, this one friend who we really like, we're super close to and we would never do anything to upset him? It's a struggle, definitely - but why not have both? Why not have the amazing friend who has always been there, who always will be there and who never lets you down - and also have his sister who, well, just makes your jaw drop. No further explanation needed why Jannowitz records new sister label is called Jaw Dropping records. Jaw Dropping is exactly this new sister who is hot, young, sexy, funky in a way. But to leave the metaphor, the quintessence here is: there is a new label on the market. Jaw Dropping Records originates from Cologne-based and well established Jannowitz Records, short JAW - hence the name. It is the sub-label everyone has been waiting for. Whilst Jannowitz records has been a core player of melodic techno and progressive house, Jaw Dropping Records focuses more on the feminine side of electronic music. We're talking funky baseline, a lot of vocals, electronica - but never losing the roots of true musical talent. Jaw Dropping Records head Rachel Raw is an ambassador of unique sound and music that is different from what you'll find in the charts. Of course, its roots with Jannowitz records provide perfect conditions. The distribution, the support - everything's already there. What's new is the angle towards electronic music. You'll find disco and groovy beats, downtempo and deep house in the future catalogue. Well selected by an independent female leader who is determined to shake up the industry with exceptional and extraordinary releases. And, of course, its distinguished style will be portrayed in every part of the label - from the cover design to the artist selection. Stay tuned!