Jaw Dropping Records Another Chance Compilation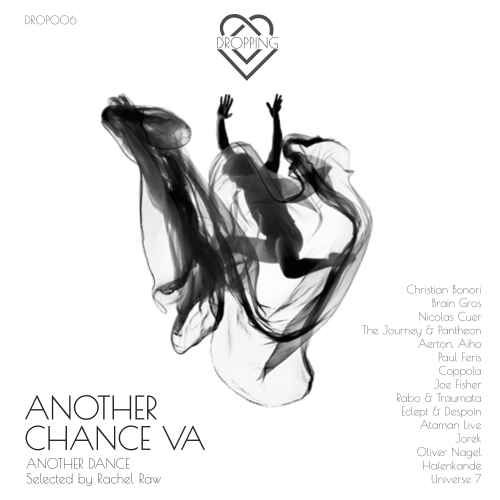 Another chance, another dance – this is the motto that has accompanied Jaw Dropping Records since its overwhelming start just a few months ago. In the meantime, the label has been overwhelmingly successful with constant Beatport chartings and international attention. Never ever would we have expected some of the biggest and most inspiring electronic music artists coming to us and asking for a release on our brand new baby. But they've come in herds and we're grateful for that.
Although we've only had a few releases in the JAW catalogue, we're confident enough to already showcase the original Jaw Dropping sound with two amazing compilations. "Another Chance" and "Another Dance" compile 30 tracks by artists we love and admire. So get ready for 30 chances to 30 dances.
Christian Bonori kicks off "Another Chance" compilation. He's been regular on Sharam's Yoshitoshi Recordings and released EPs on famous labels such as Suara. Although you could know Cristian from one of his softer Deep House releases, his opening track to "Another Chance" is one big hitting techno track. And this is only the first of 15 exceptional tracks on this compilation.
Unfortunately, there is no time to get to every single one of them, but let us talk you through some main pillars. Both parts of the release are made to show off what Jaw Dropping Records stands for. Melodic elements play a major role in all 30 tracks. Less heavy productions from artists like Aerton ("Bergamot") or Argentinian DJ and producer Joe Fisher ("Kataforesis") stand exactly for this. Worth mentioning at this point is definitely Oliver Nagel with his Jaw Dropping Records debut "I Need". Oliver has been an underdog in Berlin's music scene for more than a decade. But when we at the Jaw Dropping headquarter listened to his promos we were instantly convinced that Oliver needs to be a part of the family and that we want to introduce him as one of our label main artists. You will find a second and even more emotional track by Oliver on "Another Dance".
With Jorek ("Cosmos Illumination"), Rabo & Traumata ("Heroica"), Coppola ("Meteorite") there are some names on this compilation that have been part of the JAW family for months and even years – not to forget Paul Feris ("Become One") of course, who has been with us since the beginning of Jannowitz Records, the bigger sister label, more than five years ago.
If you've counted right, you'll see that there is still lots of space for new artists: Nicolas Cuer ("Frequancy"), Universe 7 ("Without You"), Hafenkande ("Safari"), Vibeat ("39"), Ataman Live ("Injun"), "Eclept ("Wish You Were Here"), Brian Gros ("Increase") and The Journey & Pantheon ("BL1") are all here for the first – but probably not the last time. And now take a look at "Another Dance" compilation – there's loads of good music ready for you to be discovered and stellar artists that we'd like to introduce you to!
SUPPORT FROM: Josephine de Retour, Boryana, Don G , Eric powell , Mycell, Antonio Grassia, TESLA, John Haden, michael, Nick Shak, MJL, occer, Brian Gros, Rosper, barbuto, Sebastian Fleischer, Randy Seidman, Suiss, Sergio Matina, differentgrooves.com, BULTECH, Pablo Prado, go!diva, Marina Karamarko, Markantonio, luigi madonna, HIGHJACKS, marco carola , Stiv Hey, Frederic Stunkel, Ochu Laross, Elmar Strathe, Jade, Ranj Kaler, George Vidal, Dr.Best (Radio Z 95.8 Nuernberg), Martin Kremser, Alex Nemec, Riva Starr, Anthony J, AlBird, Warmfm, Cristian Varela, Maksim Dark & Diatonik, youcef elaid, Pedro Mercado, hypnorex, Cheets / Rob, Global Dance Session, Manchini, Milos Pesovic, Joseph Disco, Martin Boettcher, Denny S (Zwischenmiete), Jean-Jerome, Sunil, Werner Niedermeier, Atlas Corporation, Tom Schön, Moe Danger, Richie Hawtin, DJ Style, Anthony Pappa, Anderson Noise, Hristian Stojanowski, danilo d'andrea, Mudman, Rachel Raw (Jaw Dropping Records), Gaga, Joy Fagnani, Leevey, Mix Feed Radio Show, Radio Globo, BOHO...
We all have this one really good friend whose sister is kinda… hot?! You know, this one friend who we really like, we're super close to and we would never do anything to upset him? It's a struggle, definitely - but why not have both? Why not have the amazing friend who has always been there, who always will be there and who never lets you down - and also have his sister who, well, just makes your jaw drop. No further explanation needed why Jannowitz records new sister label is called Jaw Dropping records. Jaw Dropping is exactly this new sister who is hot, young, sexy, funky in a way. But to leave the metaphor, the quintessence here is: there is a new label on the market. Jaw Dropping Records originates from Cologne-based and well established Jannowitz Records, short JAW - hence the name. It is the sub-label everyone has been waiting for. Whilst Jannowitz records has been a core player of melodic techno and progressive house, Jaw Dropping Records focuses more on the feminine side of electronic music. We're talking funky baseline, a lot of vocals, electronica - but never losing the roots of true musical talent. Jaw Dropping Records head Rachel Raw is an ambassador of unique sound and music that is different from what you'll find in the charts. Of course, its roots with Jannowitz records provide perfect conditions. The distribution, the support - everything's already there. What's new is the angle towards electronic music. You'll find disco and groovy beats, downtempo and deep house in the future catalogue. Well selected by an independent female leader who is determined to shake up the industry with exceptional and extraordinary releases. And, of course, its distinguished style will be portrayed in every part of the label - from the cover design to the artist selection. Stay tuned!