Felipe Fella - That Body EP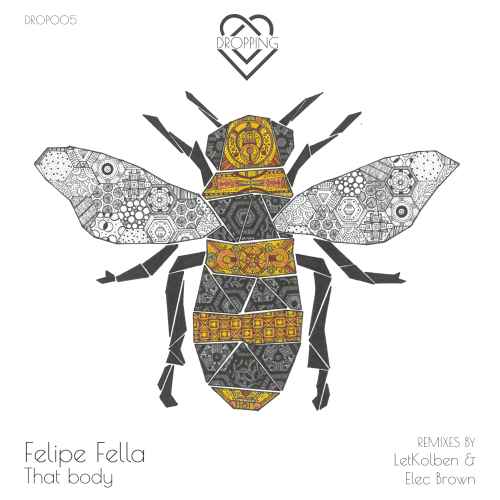 Jaw Dropping Records is still in its baby shoes. Only a few months old, the label has been a huge success already. Numerous releases were featured in popular playlists on streaming platforms like Spotify and the feedback from DJs worldwidey couldn't be better. The first few EPs were – due to winter time when we launched Jaw Dropping – rather gloomy and melancholic. That's about to change.
With "That Body" EP by Felipe Fella, Jaw Dropping Records catapults itself directly into the forefront of summer vibes and groovy house tunes. The Brazilian DJ and producer sent us two bumpy hi-hat and clap driven tracks. "That Body (Original Mix)" lives off a simple bassline, a chirping melody and very few vocal samples – minimal house music at its best.
Same concept, stronger kick: "The Move (Original Mix)" works similarly to "That Body" with rocket-like synth elements providing the track with the little extra, making it ready for summer raves across the globe.
For the remixes, we asked Polish DJ and producer LetKolben and Elec Brown from Southern Germany to work on "That Body". We've been following both artists for a long time and were sure that their unique styles would give the EP some edge. LetKolben, whose recent "The Voyager" track on famous Bar25 Music was super successful, turned "That Body" into a dreamy deep house track. Elec Brown focused on the melody, gave it more space and made it the driving force that spirals into distortion in the tracks enormous break that ends in heavy drop with a bassline pushing down on you.
Get in the summer vibe and dance to Felipe Fella!
SUPPORT FROM: Damian Duda, Martin Kremser, Moe Danger, einzig&artig, marco carola , differentgrooves.com, Salah Sadeq, Stiv Hey, Markantonio, Rabo, Pablo Prado, Sascha Cawa, Ednner Soares, Dole & Kom, Jean-Jerome, Dr.Best (Radio Z 95.8 Nuernberg), Denny S (Zwischenmiete), Warmfm, Mapusa Mapusa / Johnson, deepsouthaudio Simon , frankye lova, Markus Wesen, Riva Starr, ANKE, DJ RIM-K, Rachel Raw (Jaw Dropping Records), Antonio Grassia, Leigh Weatherell, michael, Chris Robin, Mariano Mellino, Jay-x, Francesco mon, Dylan Deck, Patrick Ebert, mike ivy, Arian 911, Daryl, BULTECH, Manchini, Richie Hawtin, Dilee D, danilo d'andrea, cf, Stas Drive, xxx, Stefano Lotti, Martin Boettcher, ANIMAL PICNIC, Mix Feed Radio Show, Timmy, Paco Osuna, Anderson Noise, Cheets / Rob, Global Dance Session, emill de moreu, Milos Pesovic, Maksim Dark & Diatonik, Eric Passin, Michael, Hypnotised, Sergio Matina, Kenny Ground, GRAHAM GOLD, Radio Globo, M.F.S: Observatory, someone else, Ewan Rill, Werner Niedermeier...
We all have this one really good friend whose sister is kinda… hot?! You know, this one friend who we really like, we're super close to and we would never do anything to upset him? It's a struggle, definitely - but why not have both? Why not have the amazing friend who has always been there, who always will be there and who never lets you down - and also have his sister who, well, just makes your jaw drop. No further explanation needed why Jannowitz records new sister label is called Jaw Dropping records. Jaw Dropping is exactly this new sister who is hot, young, sexy, funky in a way. But to leave the metaphor, the quintessence here is: there is a new label on the market. Jaw Dropping Records originates from Cologne-based and well established Jannowitz Records, short JAW - hence the name. It is the sub-label everyone has been waiting for. Whilst Jannowitz records has been a core player of melodic techno and progressive house, Jaw Dropping Records focuses more on the feminine side of electronic music. We're talking funky baseline, a lot of vocals, electronica - but never losing the roots of true musical talent. Jaw Dropping Records head Rachel Raw is an ambassador of unique sound and music that is different from what you'll find in the charts. Of course, its roots with Jannowitz records provide perfect conditions. The distribution, the support - everything's already there. What's new is the angle towards electronic music. You'll find disco and groovy beats, downtempo and deep house in the future catalogue. Well selected by an independent female leader who is determined to shake up the industry with exceptional and extraordinary releases. And, of course, its distinguished style will be portrayed in every part of the label - from the cover design to the artist selection. Stay tuned!