Solc - From Another World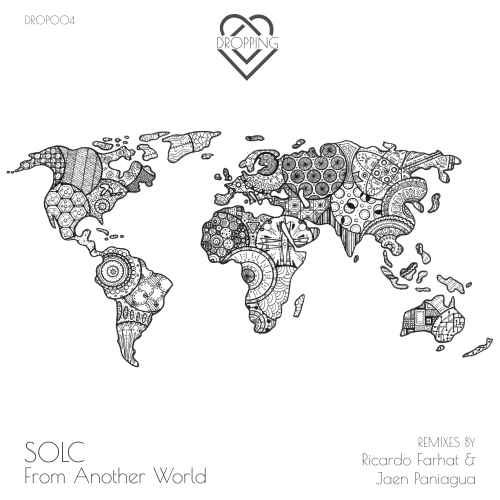 A deep and loving relation to artists from Latin and South America has been constant in the evolution of the JAW label family. There have been countless releases by amazing artists from Brasil and other countries on Jannowitz Records and this tradition is going to be continued by Jaw Dropping Records as well.
There is just so much talent on the other side of the world that needs to be discovered and made big in Europe and we want to be a part of this. That is why this release consists of Latin and South American artists only.
We are more than happy to welcome Solc to the family. He is from Brasil and one of our most recent discoveries. His productions are rich and colourful, highlighting melodies that flow over beats on the edge between house and techno.
For his "From Another World" EP he produced two Original tracks - one, "Cosmic Glue", being a little bit more groovy, with driving hihats, a bumpy beat and cow bells - the other, "From Another World", living off a dreamy synth chord sequence that fits perfectly into Berlin clubs like Panorama Bar or Kater Blau. For both tracks Solc took vocal samples to provide his productions with a little extra. But listen for yourselves.
Dreamy, groovy - two attributes that fit perfectly to Jaw Dropping Records and what we stand for. But nevertheless, sometimes we like it a little bit harder. So we asked our Mexican techno buddy Jann Paniagua to work on the melodic masterpiece "From Another World" and turn it into his very own straight forward version. Jaen's remix is a progressive techno track with a pumping kick and a nicely built up break that still highlights the original chord sequence perfectly.
Last but not least, Ricardo Farhat ! You will remember him from his remix he did together with Jaw Dropping label boss Rachel Raw for Nico Pusch.This time he's back on track with his own style and a groovy tech house remix. Stay in touch with us!
SUPPORT FROM: Sergio Matina, M.F.S: Observatory, Chris Robin, Solc, Nick Shak, Russell Deeks, iDJ magazine, Oliver Osborne, luigi madonna, Jean-Jerome, Steve, Markantonio, mirko paoloni, Darien J, Minitronix, Radio Globo, Jay-x, Anthony J, DJ Linus, HESKEL MORALES, Denis A, Distale, NYC HOUSE RADIO , Dj.Voice, Sinisa Tamamovic, deepsouthaudio Simon , Demian Moreno, Elmar Strathe, giancarlo lanza, Stiv Hey, Warmfm, Dr.Best (Radio Z 95.8 Nuernberg), The Journey, Riva Starr, Hypnotised, 123, WARSE, Pablo Prado, AlBird, Drunken Kong, Leigh Weatherell, Ranj Kaler, Calvin Bosco, Mudman, Dylan Deck, Francesco mon, michael, go!diva, Pedro Mercado, David Dorad, Frederic Stunkel, Timmy, Mapusa Mapusa / Johnson, Mix Feed Radio Show, Dhyan Droik, Martin Boettcher, mike ivy, Maksim Dark & Diatonik, Cheets / Rob, Global Dance Session, danilo d'andrea, Stefano Lotti, Richie Hawtin, BOHO, Nik Ros, JOSE MARIA RAMON,
We all have this one really good friend whose sister is kinda… hot?! You know, this one friend who we really like, we're super close to and we would never do anything to upset him? It's a struggle, definitely - but why not have both? Why not have the amazing friend who has always been there, who always will be there and who never lets you down - and also have his sister who, well, just makes your jaw drop. No further explanation needed why Jannowitz records new sister label is called Jaw Dropping records. Jaw Dropping is exactly this new sister who is hot, young, sexy, funky in a way. But to leave the metaphor, the quintessence here is: there is a new label on the market. Jaw Dropping Records originates from Cologne-based and well established Jannowitz Records, short JAW - hence the name. It is the sub-label everyone has been waiting for. Whilst Jannowitz records has been a core player of melodic techno and progressive house, Jaw Dropping Records focuses more on the feminine side of electronic music. We're talking funky baseline, a lot of vocals, electronica - but never losing the roots of true musical talent. Jaw Dropping Records head Rachel Raw is an ambassador of unique sound and music that is different from what you'll find in the charts. Of course, its roots with Jannowitz records provide perfect conditions. The distribution, the support - everything's already there. What's new is the angle towards electronic music. You'll find disco and groovy beats, downtempo and deep house in the future catalogue. Well selected by an independent female leader who is determined to shake up the industry with exceptional and extraordinary releases. And, of course, its distinguished style will be portrayed in every part of the label - from the cover design to the artist selection. Stay tuned!