Nico Pusch - Der Zauber der Magie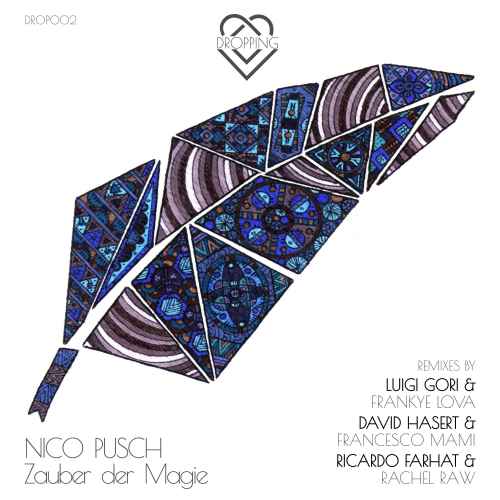 It's still the season of longing and yearning, of nostalgia - laying rolled up on the sofa in front of your fire place and watching the freezing wind shake the branches on the trees outside. It's the season of deep grooves and desireful melodies. The second release on Jaw Dropping Records 2019 takes exactly this ambiance and transformed it into a four track EP - lead by no one else than Nico Pusch. You might know him from his various releases on imprints such as Lauter Unfug or Moonbootique or from one of his DJ sets throughout Germany and beyond. Nico is the master of deep house, tech house and everything in between. He's a highly appreciated guest at most of these glitterful forest festivals you find during summer in East Germany and he delivers the perfect music for especially these events.
The title of his first ever Jaw Dropping EP resembles just this very ambiance. "Zauber der Magie" translates to "Charm of Magic" and it's title track serves what it promises. "Zauber der Magie" is a beautifully composed melodic deep house track that let's you close your eyes, hope for better times, and hold the person next to you close to your heart so that he or she can feel your breath whilst being caught by the Charm of Magic.
We found three very unique remixers to work on "Zauber der Magie". First off, we start with a special debut! Label boss Rachel Raw is premiering her first track on her baby label, that she has raised over the last few months and that has already been a huge success with the first release last month. Now she decided to show off her skills - she teamed up with buddy Ricardo Farhat from Brazil. Their remix is the hardest on this EP and complements the soft melodic tracks by the other artists perfectly. They made "Zauber der Magie" more powerful without losing its gentle and melodic touch.
As to the second remix duo for "Zauber der Magie": David Hasert and Francesco Mami usually work separately as artists but when it comes to music production they join forces and do their own magic. And that is exactly what they did for us: magic. Their remix is a stripped down almost muffled version of Nico Pusch's original that is the perfect addition to early morning sets and sunrise moments on the beach after a long night of dancing.
In order to not leave us in too much of a melancholic mood, Nico also prepared a groovier and happier track for this EP. "Love" bursts with joy because of it's lovely melody and its fantastic vocal samples. It is the track that should have been included at every festival last year - well, it's going to be this year then. Probably in the same playlist as it's remix - brought to you by Luigi Gori and Frankye Lova. You know the latter from his "Abfahrt" radio shows and his release on Jaw Dropping's sister label Jannowitz Records. Luigi Gori has been in the scene for more than 20 years with hundreds of releases. It's a pleasure to have both of them on the imprint - with a much deeper version of Nico. Pusch's "Love". Give it a listen and remember: You are going to hear it on every dance floor - from now on till late summer!
SUPPORT FROM: Ochu Laross, Mariano Mellino, Miriam, Anthony J, ANKE, Nick Shak, Jade, Milan Milano , Mudman, madmotormiquel, Ian Cauthery, South Cartel, Jackie Mayden, Darin Epsilon, Sebastian Oscilla, Nik Ros, Bruno Dietel, xxx, Martin Boettcher, Tim Urbanya, mirko paoloni, Ben Champell, Dennis Frost, Bruno Otranto, coss, igor marijuan, Martin Kremser, Starward, d!e zwe!, Stiv Hey, Paul Hazendonk, marco carola , Pablo Prado, Minitronix, Ranj Kaler, 123, Manchini, pure fm , Marina Karamarko, ANIMAL PRINT (KOMPAKT, SYSTEMATIC), BULTECH, Russell Deeks, iDJ magazine, roby lyza, Johan Dresser, thorsten karger, Anika, Olivier Weiter, danilo d'andrea, Cheets / Rob, Global Dance Session, Richie Hawtin, Jean-Jerome, Dr.Best (Radio Z 95.8 Nuernberg), Riva Starr, Denny S (Zwischenmiete), Timmy, Sinisa Tamamovic, Warmfm, Stas Drive, Jannowitz Records, Darien J, Frederic Stunkel, Oleg Uris, Francesco mon, George Vidal, NYC HOUSE RADIO , differentgrooves.com, HESKEL MORALES, Sven Sossong, Ewan Rill, Andi Durrant, Ferry Corsten, Alex Young, moodymanc/dubbled, michael, mike ivy, Colin Dale, Andrea Giudice, Soul Button, Mix Feed Radio Show, Dj.Voice, Rabo, FREQS, Ednner Soares, Laurent N., Anthony Pappa, M.I.D.I., HIGHJACKS, Wollion, Claude VonStroke, Werner Niedermeier, Yakka, Sergio Matina, Maksim Dark & Diatonik, Mycell, Jay-x, Acid Pauli & Nico Stojan, Markantonio, DJ Style, Riley reinhold...
We all have this one really good friend whose sister is kinda… hot?! You know, this one friend who we really like, we're super close to and we would never do anything to upset him? It's a struggle, definitely - but why not have both? Why not have the amazing friend who has always been there, who always will be there and who never lets you down - and also have his sister who, well, just makes your jaw drop. No further explanation needed why Jannowitz records new sister label is called Jaw Dropping records. Jaw Dropping is exactly this new sister who is hot, young, sexy, funky in a way. But to leave the metaphor, the quintessence here is: there is a new label on the market. Jaw Dropping Records originates from Cologne-based and well established Jannowitz Records, short JAW - hence the name. It is the sub-label everyone has been waiting for. Whilst Jannowitz records has been a core player of melodic techno and progressive house, Jaw Dropping Records focuses more on the feminine side of electronic music. We're talking funky baseline, a lot of vocals, electronica - but never losing the roots of true musical talent. Jaw Dropping Records head Rachel Raw is an ambassador of unique sound and music that is different from what you'll find in the charts. Of course, its roots with Jannowitz records provide perfect conditions. The distribution, the support - everything's already there. What's new is the angle towards electronic music. You'll find disco and groovy beats, downtempo and deep house in the future catalogue. Well selected by an independent female leader who is determined to shake up the industry with exceptional and extraordinary releases. And, of course, its distinguished style will be portrayed in every part of the label - from the cover design to the artist selection. Stay tuned!