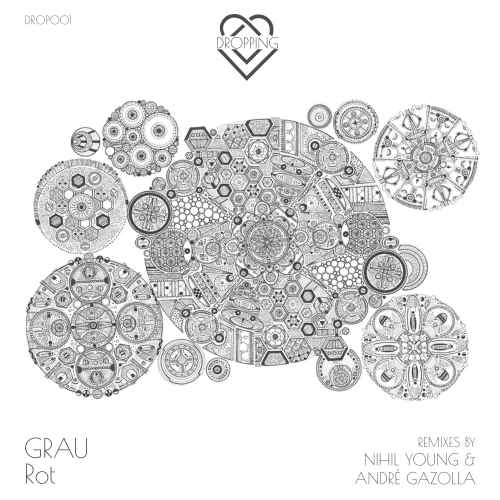 It's time for Jaw Dropping Records! 2019 marks the year of the label's birth - it's been in the making for many, many months and now we're ready to share the sexy and soulful side of the JAW label group.
And what else to expect from our first release than what's probably the most catchy four track EP you've ever seen. We're extremely happy to announce GRAU as our very first artist on Jaw Dropping records. Of course, it's not a coincidence that this outstanding electronic duo features our premiere. We discovered GRAU a few months ago, almost exactly at the time when the idea of Jaw Dropping records came up. And we immediately fell in love with Anna and Niko, who are very special and inspiring people. So, in order to get to know GRAU, we let them remix Gayle San last year on Jannowitz records - it was a huge success and everybody loved their "Breakout" remix.
Now GRAU are back, showing the world what they do best: a danceable, catchy, heartfelt and groovy mix of electropop and techno. It's music that - until now - hasn't existed: A much harder twist to the usual vocal-heavy electronica.
But let's start from the beginning. "Rot" is the name of the track. Translated to English it means 'red' which is interesting since GRAU's artist name translates to 'grey'. It's the perfect first track for our catalogue: slow, melodic, deep, dark and mysterious. Anna's voice harmonizes perfectly with the distorted synths but the track lives off these very short breaks every now and then that drive you crazy just for a quick second before the beat drops again.
What can we say? "Rot" was already the perfect track for every situation - club, radio, chill out. But then GRAU sent us "Eigentlich" ('Actually') and we were completely blown away. Its one minute intro builds up to the first verse that - as soon as you listen to it - will be stuck in your head for weeks (trust us, we've been there!) We don't want to give too much away, but we're almost sure that "Eigentlich" should be the next radio hit. Although it's not the typical poppy electro song that you'd hear on the radio - it's heavier and harder. Just perfect for Jaw Dropping records.
Nihil Young and Less Hate - both no strangers if you've been following Jaw Droppings sister label Jannowitz - are our first remixers. They made a cut back version of "Rot", reducing the vocals to very little pieces, granting it a housier touch that suits both, the track and the label, very well.
On the other hand, André Gazolla (who really needs no introduction) rebuilt "Eigentlich" to an even harder track, embracing the vocals that André usually doesn't really care about and layering them over some spacey patterns and elements that round up the first Jaw Dropping release perfectly.
SUPPORT FROM: igor marijuan, Starward, d!e zwe!, Manchini, Johan Dresser, Riva Starr, madmotormiquel, Jade, HESKEL MORALES, HIGHJACKS, Mycell, Calvin Bosco, gee, Stiv Hey, Damian Duda, Alex Nemec, Miss Luna, Don G , mirko paoloni, Simon Wish, Steve, Barber (@BarberAudio), mike ivy, George Vidal, makossa, Pablo Prado, Stefano Lotti, Smoque, Markantonio, DJ Jammy.D (Da Hub Radio CEO), stacey pullen, Nick Shak, Oliver Huntemann, Soul Button, adamkdj, Javier Benitez , Antonio Grassia, Russell Deeks, iDJ magazine, Deepology, Mudman, thorsten karger, Brian Gros, Max Pask, Salah Sadeq, Baccarat, Acid Pauli & Nico Stojan, A.D.H.S., Arian 911, Marina Karamarko, marco carola , Martin Kremser, Manda Dex, Darien J, Subtractive, Thomas Atzmann, Joseph Disco, Dole & Kom, Maksim Dark & Diatonik, d-phrag, Ewan Rill, Richie Hawtin, stefan lange, digital resources, Sinisa Tamamovic, Werner Niedermeier, Anirhythm, 123, Ilario Alicante, Elmar Strathe, Anthony J, Kerstin Eden, Ednner Soares, Warmfm, Minitronix, Randy Seidman, toni rios, differentgrooves.com, Dr.Best (Radio Z 95.8 Nuernberg), notgonnahappen, Andi Durrant, Denny S (Zwischenmiete), Dan Francisco, hypnorex, djdumani, Milan Milano , danilo d'andrea, Jean-Jerome, Tunnel FM, ANIMAL PICNIC, mashk, Mix Feed Radio Show, Peter Sturm, romylos, Paul Hazendonk, Frederic Stunkel, Ranj Kaler, Jackie Mayden, Eelke Kleijn, Linos, Martin Boettcher, Jay-x, ANKE, Timmy, Laurent N., Dhyan Droik, Francesco mon, D-Formation, Cheets / Rob, Global Dance Session, Cactus Twisters, cf, Anina Owly, Christoph Woerner, Sergio Matina, Jannowitz Records, musikredaktion, Rachel Raw (Jaw Dropping Records), Ferry Corsten...
We all have this one really good friend whose sister is kinda… hot?! You know, this one friend who we really like, we're super close to and we would never do anything to upset him? It's a struggle, definitely - but why not have both? Why not have the amazing friend who has always been there, who always will be there and who never lets you down - and also have his sister who, well, just makes your jaw drop. No further explanation needed why Jannowitz records new sister label is called Jaw Dropping records. Jaw Dropping is exactly this new sister who is hot, young, sexy, funky in a way. But to leave the metaphor, the quintessence here is: there is a new label on the market. Jaw Dropping Records originates from Cologne-based and well established Jannowitz Records, short JAW - hence the name. It is the sub-label everyone has been waiting for. Whilst Jannowitz records has been a core player of melodic techno and progressive house, Jaw Dropping Records focuses more on the feminine side of electronic music. We're talking funky baseline, a lot of vocals, electronica - but never losing the roots of true musical talent. Jaw Dropping Records head Rachel Raw is an ambassador of unique sound and music that is different from what you'll find in the charts. Of course, its roots with Jannowitz records provide perfect conditions. The distribution, the support - everything's already there. What's new is the angle towards electronic music. You'll find disco and groovy beats, downtempo and deep house in the future catalogue. Well selected by an independent female leader who is determined to shake up the industry with exceptional and extraordinary releases. And, of course, its distinguished style will be portrayed in every part of the label - from the cover design to the artist selection. Stay tuned!