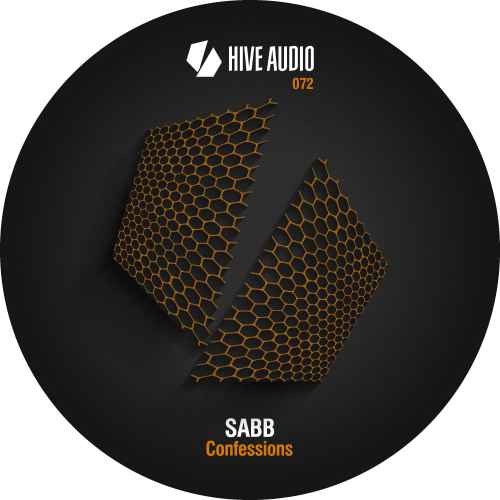 Artists: Sabb & Dario D'Attis
Title: Confessions

Tracklisting:
1) Sabb - Confessions
2) Sabb & Dario D'attis – Something Else

Early Support by Joris Voorn, Sasha, Karotte, Joseph Capriati, Marco Carola, Matthias Tanzmann.


Music connects people. And sometimes a single release can lead to wonderful things. After releasing his Hive Audio label debut "Enclose" a while ago the Kosovo-born and Zurich-based producer Sabb has not only become a dear friend to the label family but even joined the labels core team in early 2017. Therefore it is high time for Sabb to also come back musically with a new single named "Confessions" which is also the first single taken from Sabb's forthcoming debut collaborating album named "Radiant" which is expected to be released via our own Hive Audio imprint in late summer.

The singles title track "Confessions" sets club floors in motion with a straight up, no-compromise approach towards TechHouse and a rolling sub line from which a floating main motif emerges, lifting spirits and hands up high as soon as expertly cut and twisted vocal bits lead to an energetic climax and overall positive attitude. Wanna put a smile on punters faces? Play this one out and the results will be overwhelming. Teaming up with Dario D'attis for "Something Else", the second tune on this single, we see Sabb provide a slightly deeper vibe for lover of rolling club sounds. Once again relying on his trademark basslines the pair of producers combines a distinct, highly recognizable motif and its playful variations with microsampled vocals and a clever build up to create a floating, high energy take on TechHouse that will be referred to as one of the highlights of every peaktime sets throughout this season for sure.
ARTIST

TRACK NAME

Sabb


Confessions

Confessions
Sabb & Dario D'attis


Something Else

Something Else
SUPPORT FROM: Cheets / Rob, Global Dance Session, Marco Lys, dj t, paul c, RODS NOVAES, Pete Mccarthey, Guido Nemola, Pacho / Cloning Sound, Andy Baxter, Dean Facer, Mathias kaden, Maya Jane Coles, BLACKSOUL / PEZNT, joe T Vannelli, KHAAN , B2CTRL, Los Suruba, Chus & Ceballos, Alex Grandy, veerus, zohki, Timo Garcia, Philipp Ort, Lolo, atfc, Sinisa Tamamovic, Benno Blome, Listening For - Felix Da Housecat , marco carola, Patrick Kunkel, Francesco Bonora, David Moreno , Thomas A.S., Hector, NiCe7, Piemont, Alpha Radio Bulgaria, DJ Dep, sami wentz , Dj Antonio , Steve Hope, Fideles, meatme@t-online.de, Kiss FM, Dario D'Attis, J.Pe Bruna, Simone Vitullo, kydus , Richie Hawtin, Anja Schneider, Nino (AltroVerso), De la Swing, Ramiro Lopez, SASCH BBC, Guido Durante, JOSE MARIA RAMON, jaceo, D-Formation, Oscar L, joseph capriati, The Deepshakerz, Silicone Soul...