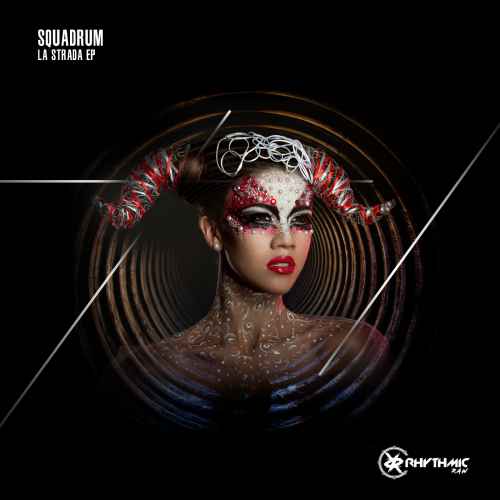 Rhythmic RAW welcomes Squadrum to the label. Squadrum aka Ken Young & Déé Mac, are a techno duo from Belgium. Driven by the darker sound of the underground, they provide a raw sense of identity with a reflection to the experimental side of things. Squadrum delivers 3 heart pounding techno bombs with crispy driving percussive elements combined with pounding, heavy analog basslines and layered drumkicks that are sure to please. We are happy to welcome these talent producers to the label.

ARTIST

TRACK NAME

Squadrum


La Strada (Original Mix)

La Strada (Original Mix)
Squadrum


TAG 103 (Original Mix)

TAG 103 (Original Mix)
Squadrum


Katuna (Original Mix)

Katuna (Original Mix)
SUPPORT FROM: chatelain, SQUADRUM , Logan Techno, Jay Pop, Martin Ace, John Castell, The Reactivitz, Sergio Del Sol, Daz Furey, Hypnotised, Flavio B, Chris Drifter, sa.lomaonun.es, EMERGENCY EXIT, TWIST3D, Taigo Onez, vitamina electronic webcast, Du'ArT, Jay-x, Xizesse, LOVERDOSE, Full On Funk (50:HERTZ) , Magistro Ray, DJ Steven, Ben Santo, Alvaro Blanco, KEFFISH, aldo conigliaro, Darkmode, Iain Taylor (rEJEKTS), Recycled Beats, Nico Mirabello, Mike Deejay, Squadrum - La Strada EP, J.Caprice, DJ Dep, Ochu Laross, Michelle Sparks, Marc O´Neil, Filthy Groovin, Tribal Injection, Dephunk, Anthony Pappa, Norbert Borchers, George Marvel, Phil Soren, Stephan Grondin, Mike.D, Eden, Leandro Dutra, Herceg, djfeio, squadrum, Dvj Niburu, ado / ado arapovic, Tony Verdi, Jack Carter, Rinaldo Mauro, Superstrobe, Athan, Simon Boulind, DJ Reiner, Yan Oxygen, Opus Quark, Richie Hawtin, joseph capriati, Jay Denham, EYREZY, Norbert Meszes, Alessandro Schiffer, Robert Owens, JinaGold, Ornery, dj diabolo, DJ Hildegard, Greg Coleman, Marcus perigo, Javier Alemany, Essam Gawish, Ernesto Mendoza, Alfonso Padilla, drake dehlen, I.A.Rufferson, Paul Begge, Dave Wincent, TecHouzer, TECH HOUSE GANGSTER, Ben Walsh, MARTIN DASSLER (Major & Minor), Tim Baker, Blue Tone Boy, Rick Maia, Chris Ward, Deetech, mirko paoloni, Cole Medina, mark@olemusic.es, East Coast Grooce, Joaco, andres luque , marco carola, Nino Bua, TRIBTECH, Berok, Rob Zile, djseth, Mazza, Eric, Manny Ward, Kon Up, Paula Cazenave, B. Ashra, DJ SaF (Official), Wurtz, Deejay Cult, VoV, Mike, Kenny Brian, Riyaz Khan, John Joseph(arg), Tekken, Notorious B, Adn Mutant, Óscar Molina Dj, Celic (Terminal M, Form, Transmit, Night Light), Listening For - Felix Da Housecat , Giovanni della Piuma, Nelman, Rick Dyno, Ricardo Diiaz aka NØN, NANTER, dj joys, Juanita Ramirez Sello Amigo Radioshow, DJ Ogi, Alberto Blanco, Kaan Koray, Milan Haack, Mike Mac, Damaged Man, Ruslan Cross, Johny S., RoMix, Frank Lamboy, DJ-T, Mediahora, Suzy Solar, kerstin eden, Rob Pearson, HAU, Kemmi Kamachi, Zisis D, Eduardo Gonzalez, Junior Lazarou, Javier Lugardo, Vilas Monnappa, keine moniker, infex, ALFREDO MENA, KaNa, Joseph Christian, Gianni Ruocco, Mike Raymond, Coldbeat, Jordan Petrof, Monsta, Squadrum, Campaner, Justin Baiely, dj hmc, Glenn Friscia, Kris Von, aaaa, DJ Boris , Andres Velilla, Swynce, Deep House Belgium, Repton, deejaysoul, Fermin Ruiz, Loui Fernandez , Leon Blaq, Dj Dialog, CLAUDIA TEJEDA, robert stahl, Dani M, KE (Kid Enigma), mike ivy, Juan Lara, Gianluca Catra, Matias Bagato, Adriano Sarria (We Dance Music Concept), someone else, flavia lazzarini, DJ_KIK, DJ Style, iDJPool, paweldun, dj rustyegan, SQUADRUM, Mike Storm, technolocos web radio, Nogales Lozano, Carles DJ, Vincenzo Ciani, Sue La Vie, NinoMrDj, Paco Osuna, Analog Trip, Maxdal, DEZZ, aleksij dj, Digital FM DFM, Emran Badalov...
Rhythmic RAW is a sub label of Rhythmic Recordings created to focus on the deeper more underground side of the tech spectrum. Delivering heavy grooves and bass driven tracks for all your after-hours and peak hour sets. Unlike its parent label Rhythmic Recordings, Rhythmic RAW will focus more on the driving bass and melodic synths of techno genre and it's artist's