HiveAudio 070 - Dario D'attis - There is A + Gorge Remix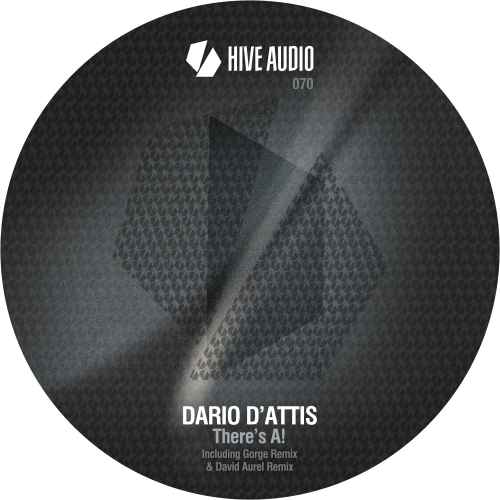 Artist: Dario D'Attis
Title: There's A! (House Party)
Cat.Nr.: HA070

1. There's A! (Original mix)

2. There's A! (Gorge Mix
)
3. There Is A! (David Aurel Mix)


Active on the release circuit for about 15 years now with a string of numerous singles released on labels like Nervous Records, Purple Music, Poker Flat Recordings and of course Hive Audio we're glad to see our good friend Dario D'Attis coming back with a new banger in 2k17.

Repeatedly proclaiming that "There's A House Party" going on over a well energetic foundation of super solid, functional TechHouse sporting a slightly, yet constantly filtered and dubbed out motif Dario D'Attis' original tune is making a clear, incorruptible statement that surely applies to each and every vibing dancefloor throughout and way beyond the next months. Status: future classic.

The first remix on this single release is provided by Mannheim's Gorge whose rework is exploring a more playful and uplifting path musically whilst speeding things up and encouring the crowd to raise their hands in the air through the use of ecstatic breakdowns and some sweet'n'jacking, interlaced and well acidic ornaments.

Finally "There's A House Party" is reworked by the Switzerland-based producer David Aurel who has released quite a few singles alongside his friend and studio partner in crime Dario D'Attis in the past. His take on the original tune keeps up with the general TechHouse vibe of the tune whilst stripping things down a bit and providing a techier, sharp-edged feel perfectly rolling along with the tunes' seductive bassline grooves.


ARTIST

TRACK NAME

Dario D'Attis


There is A (Original Mix)

There is A (Original Mix)
Dario D'Attis


There is A (Gorge Remix)

There is A (Gorge Remix)
Dario D'Attis


There is A (David Aurel Remix)

There is A (David Aurel Remix)
SUPPORT FROM: popof, Hermanez, Paride Saraceni, Simone Zino, youcef elaid, dj t, Alvaro Smart, Sergio Fernandez (Insert Coin), Mousse T., German Brigante, Axel, Luca Marano, Ramiro Lopez, sami wentz , RODS NOVAES, Zoe Xenia, Andy Baxter, Nadja Lind, Cassandria Daiva, Alfa Romero, Gregor Wagner, Hive Audio, Sascha DIve, Benno Blome, Alfonso Padilla, stacey pullen, J.Pe Bruna, Jay Lumen, Animal Trainer, DJ Dep, joseph capriati, Mauro Alpha, Pacho / Cloning Sound, Maiki, Sven Kerkhoff, Paul Hazendonk, Edu Imbernon, Doomwork, BLACKSOUL / PEZNT, Dj Antonio , dj ricky montanari, atfc, UGLH, NiCe7, Daniel Becker / Ex Trickski, KHAAN , Philipp Ort, kydus , Reelow, Los Suruba, matt sassari, Listening For - Felix Da Housecat , marco carola, Florian Kruse, Kiss FM, Tiga, Reto Ardour, Patrick Kunkel, simon dunmore, Dario D'Attis, David Glass, Franz Costa, Nino (AltroVerso), Oscar L, paolo martini, Thomas A.S., gorge, dave rosario, Francesco Bonora, Artslaves, Fideles, Steve Lawler, mihai popoviciu, HORATIO, Collective Machine, Tunnel FM, The Deepshakerz, Hector, Sinisa Tamamovic, Cheets / Rob, Global Dance Session, hofer66, mark farina, Guido Nemola, Simone Vitullo, meatme@t-online.de, CHROMA, Anderson Noise, Cj jeff, JOSE MARIA RAMON, Mountage, SASCH BBC, Anthony Attalla, e, JP Chronic, Dean Facer, Anja Schneider, Namito, Alex Grandy, Silicone Soul, Wade, Richie Hawtin, David Moreno , Timo Garcia, Kaiserdisco, AFFKT...