Rave The Planet & Riot Recordings 'Supporter Series 008'- Christian Smith - Juliet Fox - Paula Cazenave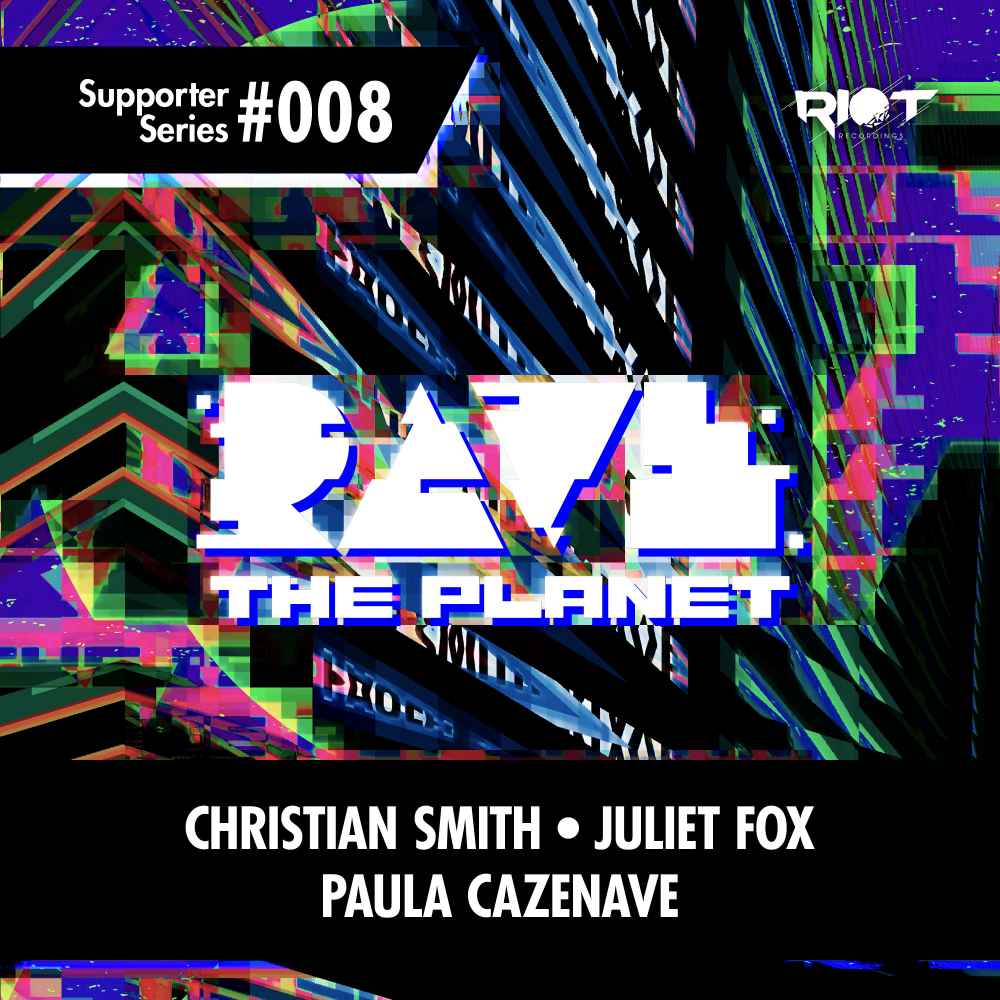 Rave The Planet and Riot Recordings are excited to present the 8th Supporter Series sampler EP with tracks from artists who actively support the project. This time: Christian Smith, Paula Cazenave and Juliet Fox!

Rave The Planet is a non-profit organisation based in Berlin, dedicated to the art and culture of electronic music. Their main aims are to protect techno culture as an UNESCO Intangible Heritage and to bring back the spirit of the Berlin Love Parade with a new 'big techno parade' in 2022.

The 8th instalment opens with a Techno masterpiece from the man himself: Christian Smith, founder of Tronic Records, now "one of the top 3 selling Techno labels in the world". "Filter Force" is a bold DJ weapon with Christian's signature groove that you can't go wrong with! A driving, progressive, almost cosmic Techno cut for big dancefloors!

Second on the EP is "Parade On Acid" by well-established Spanish Techno female DJ and producer, Combine Audio label boss Paula Cazenave. As you would expect, her track incorporates the unmistakable sound of a 303 combined with that classic heavy kick and sharp percussions to move any sweaty club walls!

Finally, Toolroom's "First Lady" Juliet Fox delivers a nostalgic yet incredibly powerful and hypnotic homage to the roots of Berlin Techno sound with her mesmerising vocals telling the story of the Love Parade as "It Began In 1989".
"Can you feel the Love?

As ever, all proceeds from Supporter Series sales go directly into Rave The Planet's non-profit projects.
ARTIST

TRACK NAME

Christian Smith


Filter Force

Filter Force
Juliet Fox


It Began in 1989

It Began in 1989
Paula Cazenave


Parade On Acid

Parade On Acid
SUPPORT FROM: Manuel Lauro, Russell Deeks, iDJ magazine, Resonances (IT), nicole moudaber, Mat, ingrid, joseph capriati, Dr. Motte, Sinisa Tamamovic, SAMA', Cristian Varela, Techno PROMO, Riva Starr, karotte, Paco Osuna, Uakoz, Master J, Cheets / Rob, Global Dance Session, Richie Hawtin, alen milivojevic, Charles D (USA), daniel beknackt, Drunken Kong, Ilario Alicante, differentgrooves.com, Oscar L, Markantonio, Belocca, Marco Faraone, Why I'm So Different Radio Show, Vortex...