Rave The Planet & Riot Recordings 'Supporter Series 007'- Mark Dekoda - Klanglos - Robert Babicz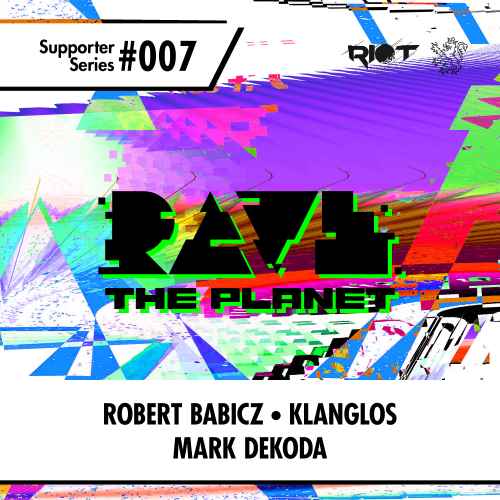 Rave The Planet and Riot Recordings strike again with another powerful sampler featuring artists who actively support the project. This time the three tracks come from Mark Dekoda, Klanglos and Robert Babicz.

Rave The Planet is a non-profit organisation based in Berlin, dedicated to the art and culture of electronic music. Their main aims are to protect techno culture as an UNESCO Intangible Heritage and to bring back the spirit of the Berlin Love Parade with a new 'big techno parade' in 2022.

The 7th EP in the Supporter Series starts with a bang thanks to Mark Dekoda and his fast, rolling and progressive "Hybrid" tune that you might already feel familiar with it, as it was featured on TikTok in the Rave The Planet Fundraising trailer, which has been viewed over 18 million times! Mark has also previously released on Scythe Recordings plus Hungry Koala.

Second on the EP is "A New World", which is another explosive track by ERROR Records label boss Klanglos, who delivers a pulsating masterpiece with timeless sound design and new school production overlaid with a dystopian vocal sample.

Closing out the EP is a climactic track by Robert Babicz who's a techno veteran and story telling producer and needs little introduction following his releases on labels ranging from Bedrock to his own imprint Babiczstyle. His track "Drive Inn" has acidic tones and stabbing melodic chords layered over crisp percussion to create a groove perfect for bouncing between the walls of a warehouse rave.
ARTIST

TRACK NAME

Robert Babicz


Drive Inn

Drive Inn
Klanglos


A new World

A new World
Mark Dekoda


Hybrid

Hybrid
SUPPORT FROM: Some Me, POPOF, Manuel Lauro, mariopiu@mariopiu.eu, Duss, Mat, marco carola, Russell Deeks, iDJ magazine, Maxie Devine, Itsalltechno, Ferry Corsten, Spencer Dunning, joseph capriati, Markantonio, Techno PROMO, Cheets / Rob, Global Dance Session, Riva Starr, Paco Osuna, Dr. Motte, Why I'm So Different Radio Show, Ilario Alicante, daniel beknackt, Sinisa Tamamovic, Richie Hawtin, Jam El Mar, Marco Faraone, Timmy, mimetic, differentgrooves.com, Gaga, Vortex, Cristian Varela...