Rave The Planet & Riot Recordings 'Supporter Series 006': Nakadia - Pet Duo - Saytek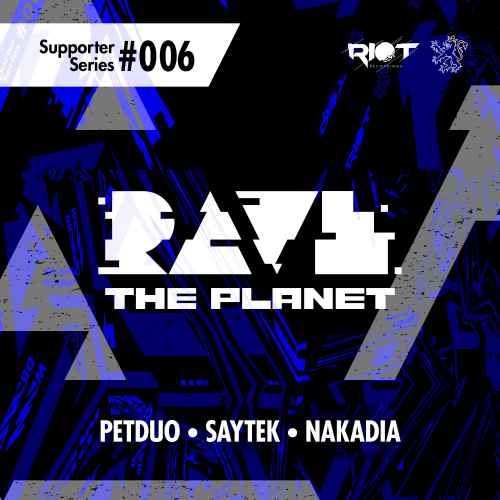 Riot Recordings and Rave The Planet are back with the 6th instalment of the Supporter Series, this time joined by the fantastic and diverse artists: Nakadia, Pet Duo and Saytek!
Rave The Planet is a non-profit organisation based in Berlin, dedicated to the art and culture of electronic music. Their main aims are to protect Techno Culture as an UNESCO Intangible Heritage and to bring back the spirit of the Berlin Love Parade with a new 'big techno parade' in 2022.
Globally famous and inspiring Thai DJ Nakadia opens this chapter with a super energetic Acid Techno tune that will serve DJs "Around The Clock" - from peak time to very late after parties!
Brazilian Hard Techno Pet Duo speed things up and take us to a good old Techno warehouse with their seriously oldschool "Take My Heart". Percussion thunders, sharp breaks and chopped samples are tailored for real raves!

The grand finale belongs to British producer Saytek, who contributes to the series with a live take of his track. "OK" is complex with progressing dynamics and harmonies, creating a dreamy yet powerful Break Beat soundscape. A perfect summer festival track!


All Supporter Series sales proceeds go directly into Rave The Planet's non-profit projects.
ARTIST

TRACK NAME

Nakadia


Around The Clock

Around The Clock
Pet Duo


Take My Heart

Take My Heart
Saytek


OK (Live From London)

OK (Live From London)
SUPPORT FROM: Cristian Varela, The Advent, Maxie Devine, joseph capriati, Riva Starr, Dr. Motte, Itsalltechno, Paco Osuna, Why I'm So Different Radio Show, Richie Hawtin, Ferry Corsten, Sinisa Tamamovic, Cheets / Rob, Global Dance Session, Marco Faraone, Timmy, differentgrooves.com, daniel beknackt, Resonances (IT), Techno PROMO, Jam El Mar...