Gizmo & Mac - Arkanum EP incl. Heerhorst & Monsieur Pluspetit Remixes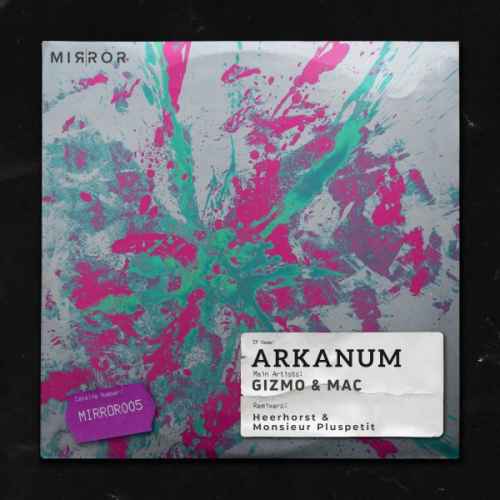 Gizmo & Mac debut on Mirror Records with their newest EP "Arkanum". The four-track Melodic House & Techno EP features heavy bumping basslines, stirring melodies and driving drums. The first track "Arkanum" already starts of with a massive bassline and builds up into a true peak time banger that will make sure to get any dancefloor moving. The remix by Heerhorst takes it even a step further, adding driving drums to create a seemingly never-ending rave bliss. The flipside of the EP features "Zeitgeist", this tracks delivers a more melodic approach without ever neglecting the dancefloor suitability. With the last track on the record Monsieur Pluspetit returns to Mirror Records with his remix of "Zeitgeist". He's focusing on the melodic parts of the original, emphasizing the vocal bits and giving it his very own touch.
Overall the EP is a masterful first appearance from Gizmo & Mac, make sure you grab it!
ARTIST

TRACK NAME

Gizmo & Mac


Arkanum

Arkanum
Gizmo & Mac


Arkanum (Heerhorst Remix)

Arkanum (Heerhorst Remix)
Gizmo & Mac


Zeitgeist

Zeitgeist
Gizmo & Mac


Zeitgeist (Monsieur Pluspetit Remix)

Zeitgeist (Monsieur Pluspetit Remix)
SUPPORT FROM: Ezekiel, Division One, Kadric, Shmitty, Qarrassa, sezer uysal, John Evexc, MARTIN DASSLER (Major & Minor), Elektrodisko, j, Julien Vertigo, Dexon, Wiebe Roose, differentgrooves.com, Kurt Kjergaard, BOHO, Ferry Corsten, ehzuwerjweruw, Merih, DJ Style, Tino Tranquilo, Whirl, Stergios Sigma, Zisis D, Sasha Le Monnier, PAOLO TOSSIO, RolandBroemmel, FLORENZO HIÄÄT, Sergio Matina, Suzy Solar, CALI, Dave Hard, Richie Hawtin, Eric Rose...
Mirror Records is a Bern based event & music label working together along side various artists with passion & vision – Aiming to create the ultimate experience!