TLA - Thank God It's Friday 2020 (Frankyeffe Remix)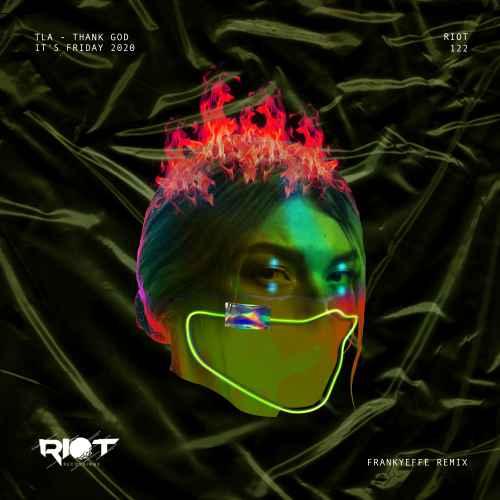 Italy's renowned DJ and label owner, Frankyeffe returns on July 20 with a blistering
remix of TLA's 1991 classic 'Thank God It's Friday,' out via his own Riot
Recordings label.
Having previously featured on the likes of Senso Sounds, JAM, We Are The Brave, Filth
On Acid, Tronic, Kraftek and Terminal M, Frankyeffe continues to make his mark with his
Riot Recordings label. Following hot off the heels of 'Skin' - his recent collaboration with
Germany's BRUNA, Frankyeffe returns with yet another essential addition to his ever-
expanding catalogue this time revisiting and re-working an Italian techno classic.
TLA's 'Thank God It's Friday' was originally released in 1991. Coming at the dawn of the
techno scene in Italy, TLA was the brainchild of DJ Massimo Salustri and musician Marco
Merelli. As the first raves were happening Techno started to take its grip on the nation,
especially in Rome, where TLA was born. 'Thank God It's Friday' was a huge track in these
early days of Italian techno, and one that Frankyeffe remembers having a massive influence.
"It's very different listening to the original now compared to back in 1990 – but it takes me
back to a very happy time, a very different world to the one we find ourselves in now."
Having recently re-discovered the track during one of his lockdown vinyl streams Frankyeffe
was blown away how good it still sounded and thought it would be fun to put his own take on
it. "It all started with records like this", says Frankyeffe. "When I listened to the vinyl after
such a long time and it was still sounded so good, I knew I wanted to make a 2020 version. I
wanted to show my love and respect for the original but also put my own spin on it." 
Frankyeffe's remix of Thank God It's Friday will be available digitally from 27 th July.
ARTIST

TRACK NAME

TLA


Thank God It's Friday 2020 (Frankyeffe Remix)

Thank God It's Friday 2020 (Frankyeffe Remix)
TLA


Thank God It's Friday 2020 Remastered

Thank God It's Friday 2020 Remastered
SUPPORT FROM: Bolster, Alessandro, Francesco, Jonny Marciano, Fractious (Agile/Say What?/Transmit), Ilario Alicante, Sinisa Tamamovic, joseph capriati, Devid Dega, Richie Hawtin, Thomas Schumacher, Riva Starr, Ferry Corsten, Reker, daniel beknackt, Itsalltechno, Timmy, Gaga, Cheets / Rob, Global Dance Session, Massimo, Cristian Varela, Markantonio, Why I'm So Different Radio Show...